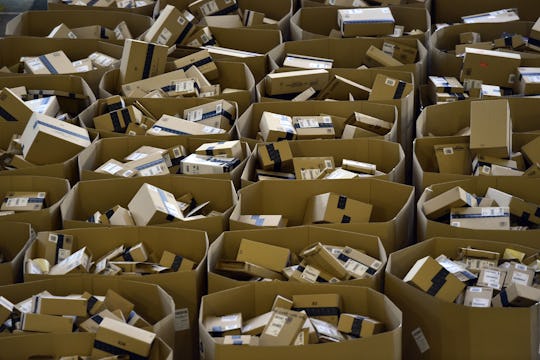 GERARD JULIEN/AFP/Getty Images
How To Track Hatchimals Inventories If You're Still Hoping To Score One
The great Hatchimals craze of 2016 has reached its apex. What began as an innocent idea to provide children with hatchable, interactive toy animals has ended in empty shelves, delayed shipments, and anxious parents. The good news is that Spin Master, the Toronto-based toy company that makes Hatchimals, has done what it can to keep consumers updated on supply, as have the companies selling the popular bird-like creatures. So, how do you track Hatchimals inventories if you're still hoping to snag an elusive furry friend for your little one? A new website makes it easy to know when new online inventories are available.
The website in question is BrickSeek.com, a Walmart-affiliated website that sends email and text alerts when a desired product has been re-inventoried at popular online retail outlets like Walmart, Amazon, Toys R Us, and Target. Importantly, the alerts are for online inventories only, so this doesn't mean the toy has been re-stocked ay physical Walmart, Target, or Toys R Us stores. According to WABC 7 News, a California ABC affiliate, Walmart representatives have confirmed as of last week that Hatchimals re-stocks have started at 1,700 Walmart stores. Each store will reportedly have "dozens" of the toy, but it's difficult to know when a particular store will receive the shipment. "The best advice is to keep checking with the manager at your local store," WABC 7 concluded.
All told, recent Hatchimals updates have been good. Like Walmart, Target recently received new Hatchimals shipments. According to CNBC, the retailer began restocking at local stores on Dec. 11. There is a per-person shopper limit of two at Target, while there is no limit at Walmart. The cost of the Hatchimals depends on the retailer as well — at Target, the little guys go for $59.99, while at Walmart they're $48.88 each. At Toys R Us, where Hatchimals shipments will reportedly arrive in small installments all the way until Christmas, there is a limit of one Hatchimal per shopper, and the price is $59.99.
At this point, the best bet might be waiting for after the holiday season. Nancy Zwiers, the chief marketing officer for Spin Master, told CNBC, "We have increased production, and a whole new batch of Hatchimals will be ready to hatch in early 2017."
It's easy to see how Hatchimals have captured the imaginations of children in the United States, Canada, and the U.K. According to a lively account of Hatchimals at The Daily Mirror, kids can help their Hatchimals hatch by rubbing, patting, or knocking the egg, "and the creature inside responds in kind with lights, sound and movement." After this initial contact, "the egg glows rainbow colours and the creature inside starts trying to get out by methodically tapping away the shell with its beak." From there, the hatching commences. According to The Mirror, "it's this hatch moment that families will find most novel." The hatching itself can go on for up to 45 minutes, and families gather together to witness the event.
James Martin, a senior vice president at Spin Master, told The New York Times that the hatching process is key to the toy's popularity. "They don't know what's inside and they get excited about what they may get," he said. "There's this anticipation that builds."
Once hatched, the Hatchimals provide further entertainment as kids get to know their new furry friend. Unfortunately, for many children hoping for a Hatchimals this holiday season, they won't get to know their new furry friend until after the new year.