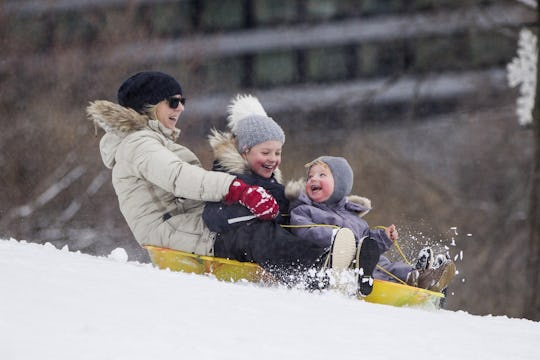 Scott Eisen/Getty Images News/Getty Images
Here's How To Track Winter Storm Stella
Break out the sleds and hot cocoa, because there are more than likely some snow days in the very near future. That's because huge swaths of the northeast are under blizzard and winter storm warnings as a massive nor-easter forms along the East Coast. Thousands stand to lose power and travelers can kiss their scheduled flights goodbye as the storm prepares to unleash winds of 50 miles per hour and up to two feet of snow in some areas when it hits Monday night. So, the ideal method of how to track winter storm Stella is clearly to do so from under a pile of blankets while roasting marshmallows in the fireplace — in other words, much of the northeast will do well to stay at home during the early part of the week.
Because it's going to be a doozy. According to USA Today, more than 19 million people live in the path of a potential blizzard, as the National Weather Service has issued a warning for one in New York City, parts of northern New Jersey, and southern Connecticut. Additionally, the more than 1,000-mile stretch between the mountains of North Carolina and northern Maine are likely going to get blasted with between 12 and 18 inches of snow, with coastal areas slated to receive the dreaded "wintry mix" of rain, sleet, and now. Ready to start getting caught up on that Netflix queue yet?
For those looking for the play-by-play, The Weather Channel has developed an interactive map that shows exactly when the snow will plague which parts of the northeast. And the beautiful thing about it is that you can access it easily from your laptop without even getting out of bed as Stella continues to rage Monday night, as it's forecasted to do, and throughout the day Tuesday. In New England, heavy snow is predicted to fall Tuesday night before giving way to a lighter version Wednesday.
In New York City, the Emergency Management Department is already urging residents to avoid roads and to take public transit; school there has been canceled for Tuesday, too, according to Curbed. The Washington Post's Weather Editor, Jason Samenow, predicted Monday that Tuesday's commute is "likely to be a mess with heavy snow in our colder areas and a sloppy mix in the immediate metro." Winter storm warnings are also hanging over other major cities like Boston, Philadelphia, and Boston.
On top of that, more than 1,000 flights scheduled to leave from the New York City area alone have been canceled, and The Weather Channel is predicting that roads will be simply "impassable" in some areas early this week.
Stay home, the weather gods are saying. Stay home.