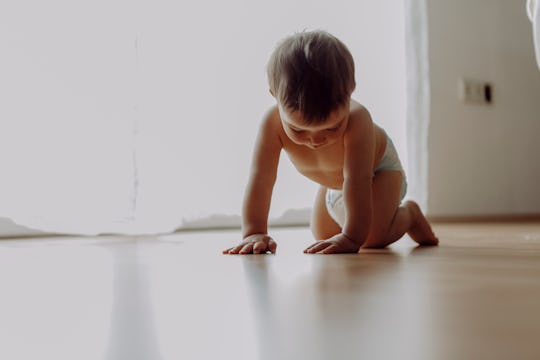 Westend61 / Getty Images
Here Are 9 Ways To Treat Baby Constipation, According To Experts
Plenty of babies deal with digestion issues, but no parent wants to see their little one in distress. That's why it's good to know what pediatricians say about how to treat baby constipation symptoms at home. Adult treatment options may be a little much for babies, so it's important to know what does work.
First, look out for the signs of constipation in babies. "Bowel movements that appear difficult to pass, causing your baby to arch his or her back or cry" are one potential symptom, pediatrician Dr. John Bisacco tells Romper. The stool itself is another sign, says Dr. Bisacco, who recommends looking out for hard, pellet-like stool. In fact, "a baby that is having 3 to 4 poops a day that are hard small balls is constipated," pediatrician Julia Getzelman, M.D. tells Romper. "You can poop daily and still be constipated!" This particular health issue can present differently in babies than adults.
Plus, the frequency of their "bathroom breaks" is not the only way to determine whether a baby is dealing with constipation issues. "Constipation in babies is not always as it might seem," Pediatric Specialist Gary M. Kramer, M.D., tells Romper via email. "Parents often make the mistake of labeling a baby as being constipated simply because they have not had a bowel movement for a certain period of time." Not every baby will have a movement every day, and that's normal. "If your baby is pooping every other day but the stool is still soft and not painful, then they may not be truly constipated," says Dr. Getzelman. If you have questions about your own baby's bowels, then contact your pediatrician for more personalized information.
With that in mind, there's still a lot parents can do to help their infants deal with this particular issue. If your little one is indeed experiencing constipation, then here are some ways to help treat it at home, as suggested by pediatricians.