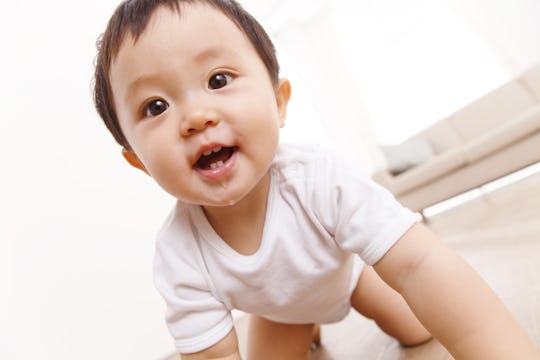 ViewStock/View Stock/Getty Images
How To Treat Drool Rash, Because You Just Can't Stop The Slobber
Babies who drool all the time are cute, sure, but all that spittle can cause some issues. You can't entirely prevent your baby from slobbering all over the place, but there's a lot you can do to help manage it. Here's how to treat drool rash in babies and help protect that delicate skin.
"Drool rash is quite common in babies," pediatrician Jay Lovenheim, D.O., F.A.A.P., tells Romper, explaining that it's often part of a baby's oral development, frequently occurring around the time they start teething (and naturally producing a ton of saliva, too).
"Saliva is used by the body to help begin to break down carbohydrates," he continues. "The enzymes that do this are slightly acidic. When this acidic drool makes constant contact with the skin, it slowly begins to irritate and break the skin down, forming the 'drool rash.'" The moisture in drool can also irritate the skin.
"Drool dermatitis is a rash on the skin where when a child is profusely drooling, their skin gets wet and dry repeatedly," pediatrician Dr. Wendy Sue Swanson tells Romper via email. "This can lead to the skin breaking down, cause cracking, and children can experience significant irritation." Because nobody wants their baby to deal with this kind of discomfort, here's what the experts advise for treating drool rash.