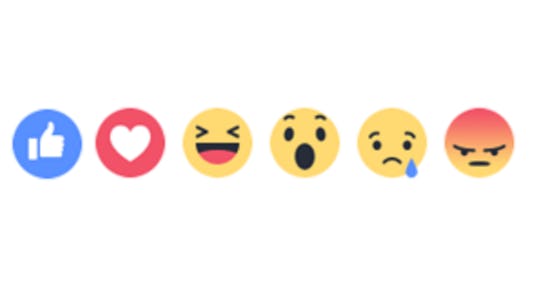 How To Use Facebook's Reactions, Because Now You Have So Much To Choose From
Remember a few months ago, when the worldwide clamoring for a "dislike" button on Facebook finally came to a head, and the social media site announced that they'd release a whole slew of different "reactions" in the near future? That day has finally arrived. Change is difficult and confusing, and changes on social media sites can sometimes send people into a blind panic (or rage; remember when they changed the star on Twitter to a heart?), so I'm here to gently explain how to use Facebook's new reactions.
The feature has been available in Spain and Ireland since October, but has just been released worldwide. When you first view a post, you'll see the old familiar Like, Comment, and Share icons. If you'd like to react with something other than a like, simple hover your mouse over the Like icon (or long press if you're on a mobile device), and you'll see six options: Like, Love, Haha, Wow, Sad, and Angry. They're all represented by emoji, but hovering over each one in turn will reveal its label. Whereas the greyed-out Like icon used to turn blue once you liked something, it will now be replaced with the icon of whatever mood you choose. If multiple people react to a post, the counts will be reflected separately, for example, two likes and three loves.
While it's a bummer that they didn't actually make the "dislike" we all asked for, and they eliminated the "Yay" that Spain and Ireland originally got to use, we should be grateful for what we've got. There's really no post that can't be covered by one of the new six emoji.