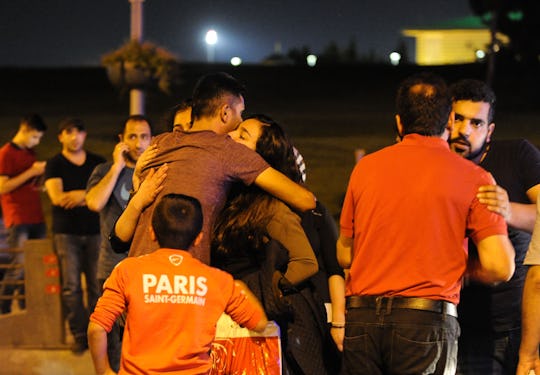 Gokhan Tan/Getty Images News/Getty Images
How To Use Facebook's Safety Check Feature After The Istanbul Ataturk Attack
On Tuesday, several suicide explosions rocked Istanbul's Ataturk airport, killing 50 people and injuring over 60 others. News was slow to trickle out of Istanbul, leaving family members of passengers at the airport desperate for information. Shortly after, a page instructing users on how to use Facebook's safety check feature after the Istanbul Ataturk attack was posted by the social media outlet, in order to facilitate quick response communications between loved ones. For anyone still in the region, the process itself is relatively simple.
Update, 7:17 p.m. ET: Istanbul's governor says at least 31 people were killed in the Istanbul Ataturk airport attack, and at least 140 were wounded, according to the Associated Press. Authorities believe there were three suicide bombers. This corrects earlier estimates from the Turkish justice minister that put the number of fatalities at 50.
Click on the link above and you'll be directed to a Facebook safety check page dedicated to the incident. There, users have the option of declaring themselves "safe." Once they do, their Facebook friends will receive notifications telling them that the user is safe.
The Facebook safety check option is also a convenient way for users outside of Istanbul to check on their friends and family who may have been affected. The feature allows users to search for individual friends. The feature also automatically scans friend lists for anyone from Istanbul who may have been in the area.
Facebook's safety check option was introduced in 2014 and has been activated for natural disasters, shootings and terror attacks. Since then, feature has been activated with more and more frequency. Earlier this month, Facebook activated the service after an explosion in Madagascar and a mass shooting in Orlando. However, the Ataturk airport incident is only the second time the feature has been used in response to a terror attack. It was first used in a terrorism situation after the Paris attacks last November.
"Over the last few years there have been many disasters and crises where people have turned to the Internet for help. Each time, we see people use Facebook to check on their loved ones and see if they're safe. Connecting with people is always valuable, but these are the moments when it matters most," wrote Facebook founder Mark Zuckerberg when the feature was introduced.
But the service has not always run smoothly. Earlier this year after a bombing in Lahore, Pakistan, the feature accidentally marked users safe who were no where near the attack.
Still for those with family and friends affected by the incident, Safety Check provides peace of mind immediately after disasters.
"Our hearts go out to everyone touched by these tragic events," Facebook said in a statement. "We hope the people in the area find the tool a helpful way to let friends and family know they are okay."