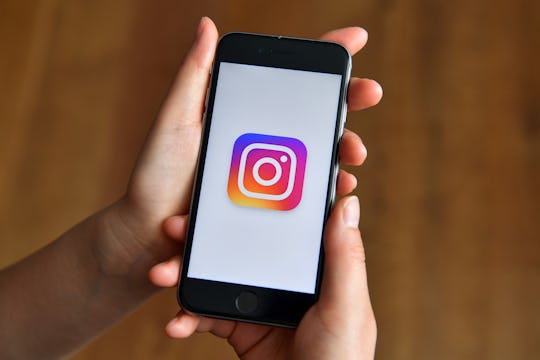 Carl Court/Getty Images News/Getty Images
How To Use Instagram Stickers, Because Your Pet Photos Need Them
If you're starting to confuse Instagram with Snapchat when you're on your phone, it's probably because the photo sharing app has been taking a lot of cues from Snapchat this year as it has added tons of new features. The latest update brings several familiar aspects of Snapchat to Instagram's revamped platform, including something similar to location filters, and other add-ons. Here's how to use Instagram stickers to add fun flair to your photos.
Instagram totally rebranded itself in 2016, with an aim to add more features similar to the highly successful Snapchat app with which it directly competes. While Instagram has always been more about photo sharing, Snapchat became popular for providing many more options besides still photography. With fun filters for images and videos, and Snapchat stories, people began to use Snapchat almost like a more visual version of Twitter. So Instagram has been feeling the heat, and took a lot of cues from Snapchat's playbook when it rebranded this year.
In addition to unveiling a new logo, Instagram also added a feature similar to Snapchat stories, which allowed people to upload blink-and-you'll-miss-it content. The most recent addition brings one of Snapchat's neatest features, location filters and stickers, to Instagram's platform.
When you open up Instagram and go to add a new story, you'll now see a sticker button in the top right hand corner (just like in Snapchat).
When you click on it you can scroll through the sticker offerings and then select which ones you want to add to your image.
Most of the stickers available now are emojis, but you can also tag your location, add a timestamp, or show the weather — also like Snapchat, but in sticker rather than filter form.
It also works for video and Instagram's Boomerang feature.
Instagram is also rolling out a story-saving feature, which lets users save the last 24 hours worth of stories to their device — just like Snapchat. Users also have unlimited space in the text box that pops up when adding a story, which means captions can be longer.
While Instagram has made a lot of changes this year and continues to look more and more like Snapchat, it still hasn't added Snapchat-esque filters. For now, you can't actually turn yourself into a snowman via Instagram, many of these features have a festive spin for the holidays. So go ahead and add 15 snowmen stickers to your selfie instead.