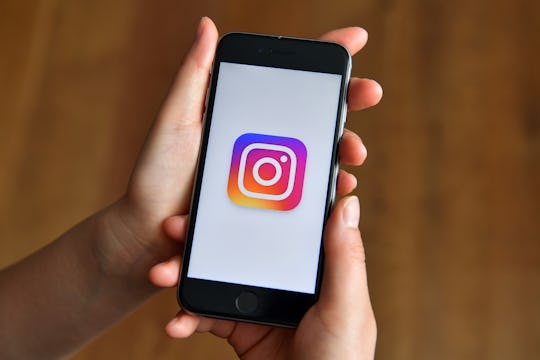 Carl Court/Getty Images News/Getty Images
How To Use Share Posts To Your Instagram Story Using The Sticker Feature
Instagram, like any other popular app out there in the tech universe, is constantly in flux. On Thursday, Instagram underwent another facelift when the app launched a feature that gives users the opportunity to re-share someone's Instagram post via their own Instagram Stories, according to The Verge. Essentially, the post you want to share becomes an Instagram sticker, and then you can manipulate (resizing, customizable backgrounds, etc.) it to your liking before posting. If all of this sounds confusing to you (don't worry, you're not alone), here's a primer on how to share posts to your Instagram Story with the "Sticker" feature.
It seems like forever ago that Instagram launched Instagram Stories in August 2016. And if you're like me, you probably wondered why the upgrade was necessary. Did the world really need another version of Snapchat? As it turns out, however, Instagram Stories is wildly popular and most of its naysayers have come over to the dark side. Want proof? Just one year after Instagram Stories launch, the app's "average usage increased to 32 minutes per day for those under 25, and 24 minutes per day for those 25 and up," according to TechCrunch. Not too shabby.
As for what makes Instagram Stories so successful, it might have to do with the fact that the app isn't afraid of improvement and reinvention. Case in point: users now have the ability to re-share public Instagram posts to their own stories. Josh Constine, Editor-At-Large for TechCrunch, summed up this feature best when he compared it to "quote tweet-style feed post resharing." Essentially, users can re-share and comment on a piece of content that they like without enlisting a third-party app or screenshots to do so. The feature also gives users the chance to share public posts with a wider audience — instead of direct messaging a post you find funny to one or a few friends, you now have the opportunity to share it with all of your followers at once — minus the hassle.
Instagram's press site released the following statement on the development, according to Mac Rumors:
We're introducing a new way to easily share feed posts to your story. When you come across something in feed that inspires you -- like a post from a friend raising money for a cause or a photo of a new design from your favorite brand -- you can now quickly share that post as a sticker to your story for your friends and followers to see.
So, how do you make this magic happen? Well, the first step is to find a post that strikes your fancy. Once you've found the piece of content you'd like to share, go to the paper plane symbol located at the top right of the post and click it to be transported to Instagram Direct. Next, you'll see an option that allows you to "create a story" with the post. From there, the post becomes a sticker that users can resize and customize with a cool background or comment. The last step is to hit share.
The best part about this new feature, in my opinion, is that it minimizes plagiarism. For instance, all posts shared to stories will feature the original poster's handle. There's nothing worse than someone trying to steal another person's content, memes included.
For those of you who don't want your posts re-shared to stories, either make your account private or disable the feature in settings.
As for when the feature will be available, Android users can start using it today, while iOS owners will have to wait a few days, according to The Verge. Happy re-sharing, people.