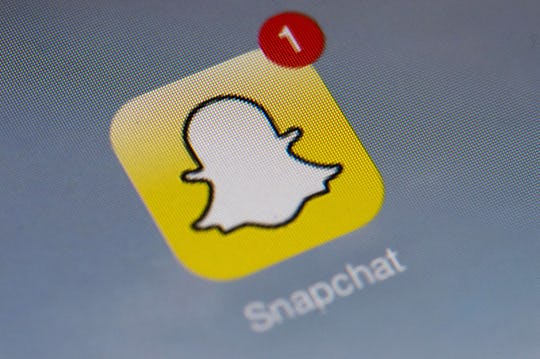 LIONEL BONAVENTURE/AFP/Getty Images
How To Use Snapchat's New Sky Filters, Because Your Snaps Need Rainbows
Blurring the line between real life and design simulations once again, Snap Inc. (aka Snapchat) has an update that's pretty artful, to say the least. Many are wondering how to use Snapchat's new sky filters, though, because they don't seem to be working for a handful of users. Romper reached out to the app for comment on what seems like a glitch and a spokesperson shared:
The release has been taking place slowly today — many users do not have the Filters quite yet. Sometimes our features roll out over the course of several hours, sometimes longer, before reaching 100%.
So it might take a little while before you get the same sky filters that your friends have, but you might as well read up on it and be prepared for when you do get to partake.
The sky filters are rolling out in celebration of Snapchat's sixth birthday and are available for iOS and Android users alike. Snapchatters can pick from a sunny, rainbow sky; a starry night scene; storm clouds; and others. In theory, the sky filters are pretty simple to use; just aim your camera at the actual sky, take your image, and the app immediately recognizes the sky and offers up its replacements available for swipe-through. Suddenly, gray overcast gloom becomes a spectacular scene, or day turns back into night. The realistic filters look breathtaking, to be honest.
Unlike face filters, you can't swipe through sky filters live; you have to take your photo first, as Mashable reported. For this same limitation, they don't work on videos — it's just photos for now. The filters are set to rotate daily, so you and your friends will have plenty to choose from.
But, as previously mentioned, users are reporting that their sky filters aren't working and are asking Snapchat how long they'll have to wait before they get to join in on the fun. The Snapchat support Twitter hasn't addressed the problem yet, nor has Snapchat's main Twitter account, likely because users should get the update soon, as per Snap's statement to Romper. Personally, I have yet to see any augmented reality (AR) sky-scapes on my friends' Snapchat stories, but there were still plenty of carbon-copy sunsets circulating at the end of the day.
Seeing as the two apps tend to try and outdo each other, can we also expect Instagram to offer in-sky edits? It would certainly take throw back Thursdays to a surreal state, but as of now it seems like Instagram is sticking to the face filters.
My feeble attempts to tried integrate the sky filters into my own story altogether failed. First, I attempted to take a clear enough sky photo before the sun set on me, but nothing worked out. Secondly, I pulled up an idyllic stock photo on my laptop hoping to trick the app. Alas, I got nothing but your run-of-the-mill color filters, timestamps, and geofilters. Surveying my artwork, my guess is that this is not at all what Snap was going for with the update. But I tried.
While waiting for my starry night that never came, I toyed around with another set of updates. In addition to the yet-to-be-used sky filters, Snapchat also showed off its 3D Bitmoji feature last week. The so-called World Lenses have been around since November of 2016, but this is the first time that customized Bitmoji have gotten in on it. I was able to join in on the fun in this regard and got to hang out with my Bitmoji self while she attempted to drive her red convertible over and and drink coffee on top of my laptop.
Now if only I could combine the two features to debut my Bitmoji driving her convertible underneath a cotton candy colored sunset — that would be the ultimate Snapchat birthday celebration story. Looks like I'll have to eagerly wait for the next update.
Watch Romper's new video series, Romper's Doula Diaries:
Check out the entire Romper's Doula Diaries series and other videos on Facebook and the Bustle app across Apple TV, Roku, and Amazon Fire TV.