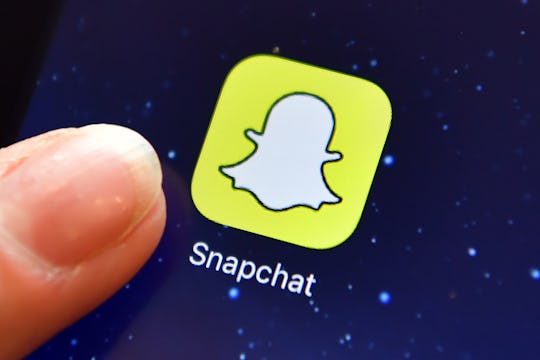 Carl Court/Getty Images News/Getty Images
How To Use Snapchat's New Snap Map Feature
On the first day of summer, another shot has been fired in the never-ending social photo app war that is Snapchat versus Instagram. On Wednesday, Snap Inc. announced a new feature for Snapchat, called Snap Map. Your favorite impermanent photo sharing app will now allow users to share their locations with friends, in a cool new map interface complete with Actionmoji. Here's how to use Snapchat's new Snap Map feature, because it's definitely got a cool-meets-creepy vibe to it. In a company blog post, Snap Inc. introduced Snap Map as "a whole new way to explore the world" enabling users to "see what's happening, find your friends, and get inspired to go on an adventure."
The new Snap Map feature rolls out with the latest Snapchat update. Update the Snapchat app for iOS and Android and voilà! Now you can access Snap Map. For those who are totally not stalking their friends on social media, it's a breeze to turn on if you were so inclined. And for those social media hermits out there, it's just as easy to turn off and ignore entirely.
Snap Inc. was very eager to note in its statement that Snap Map only works when you're using the app, so you don't have to worry about Snapchat broadcasting your every move in the background. Bonus: The Snap Map feature also won't kill your battery as a result.
How To Open Snap Map
Open Snapchat. From your camera screen, simply pinch with two fingers. The first time you use the Snap Map feature, you'll get a little welcome introduction prompt.
Turn On Location Services (If You Haven't Already)
Follow the big blue button prompts — you can't miss 'em.
Choose Your Location Sharing Mode
Once you've given Snapchap permission to use your location data, you can choose how you want to share it. If you're a social butterfly, select "My Friends." If you're a social butterfly with an entourage of elite besties, then tap "Select Friends" to build your realm of exclusivity. Feeling a bit more reclusive? Tap on "Ghost Mode" to keep your location private.
Super important note about that "My Friends" choice: Snapchat gives you a teeny tiny reminder that when you choose to share your location with friends, "This includes friends you add in the future." So, just be mindful of that.
Explore Your Snap Map
Pinch and zoom your way around the Snap Map to see what's going on, and where your friends are — assuming they've shared their Snap Map location with you, too. The Snap Map is admittedly pretty rad, especially if you're checking out a new city and looking for something to do. The Snap Map has a rainbow colored heat map showing fellow Snapchat users: Red areas indicate zones of high activity. You can zoom and explore to find out what's going on around you. Tapping on these heat zones will bring up publicly shared Stories within that area.
Change Your Snap Map Settings
Feel like going incognito for a bit? It's super easy to swap into Ghost Mode at any time. Simply click on the circle crosshairs in the lower left corner of the map to zoom in on yourself, then tap where it says "Me" to go the settings. You can also access your Snap Map settings at anytime by clicking the Gear icon in the upper right hand corner of the Snap Map. Once you select Ghost Mode, Snapchat automatically removes your last location from the map, so you're not left chilling out in the same place for hours on end.
Snap Map Your Way To Summer Fun
Snap Map genuinely looks like a cool way to check out what's happening around you, no matter where you are, and connect and share those experiences with fellow Snapchat friends. Snap away, folks!