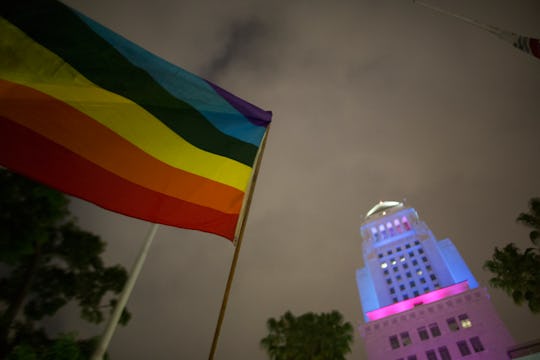 David McNew/Getty Images News/Getty Images
How To Use The 'We Are Orlando' Filter On Facebook To Show Your Support For The Victims
Following a national tragedy like the Orlando mass shooting, people tend to seek out shared spaces to come together and try and make sense of it all. And like it or not, social media has emerged as one of the communal spaces to which many of us gravitate to express our grief. GLAAD, an LGBT advocacy organization, has launched a frame you can add to your Facebook profile picture to honor the victims. So how do you use the "We Are Orlando" filter on Facebook?
It's a pretty simple way to express your solidarity with the victims of the shooting inside the Pulse nightclub.
First, just go to the GLAAD Facebook page and look for the post with the filter. Then just click on the "Try it" button at the bottom of the post. You can preview the filter on your profile pic first, then just accept the changes and voila! You have supported the victims of the Orlando shooting.
This isn't the first time there's been an opportunity to show your LGBT pride on Facebook. Facebook CEO Mark Zuckerberg himself was one of the 26 million people who, following the Supreme Court's decision upholding gay marriage as a right across the United States, added a rainbow flag filter over his profile picture, the Washington Post reported.
There have been many other similar social media movements following attacks, like the one on Paris in November. And while it might seem like you're not actually doing anything to help, social media campaigns can be helpful in swaying attitudes among groups of people. And, based on Facebook's feedback, the Post added, there is data that shows people tend to change their profile pictures in response to their friends doing the same. It can be like starting a micro-movement in your own social media circles.
But most importantly, for me, it serves as a way to stand with the millions of Americans who will fight for LGBTQ rights no matter what. Or in the words of the ultimate wordsmith Lin-Manuel Miranda from his moving Tony's acceptance speech, "Love is Love .. it cannot be killed or swept aside."
And while it can seem like a lame, cop-out to do something as easy as adding a filter to your Facebook profile picture, there is plenty of evidence this "pictivism" as it's called by some, actually works. Charles Bentley from the Bill and Melinda Gates Foundation wrote that, when used effectively, a Facebook profile picture can be powerful.
"After all, your profile picture is similar to the top fold of a newspaper — it's often the first thing you followers see or interact with on Facebook," Bentley said. "This can be a very powerful tool for advocating your cause, used correctly."
So go ahead and change that Facebook profile pic and add the #WeAreOrlando filter. If nothing more, maybe we can send the message to those grieving the loss of their loved ones in Orlando that we mourn with them and will all help work toward a more peaceful loving future for every American.
That's quite a statement for just one Facebook click to make.