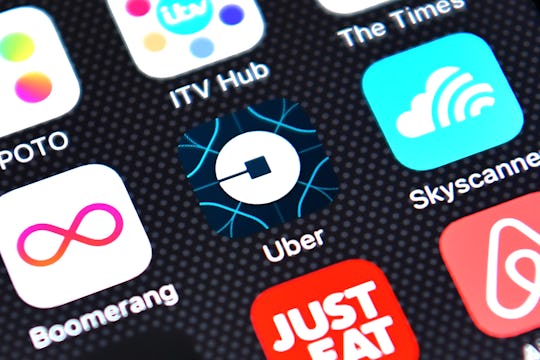 Carl Court/Getty Images News/Getty Images
Here's Everything You Need To Know About Uber's New Rewards Program
Uber has been such a great resource for so many. It's stopped people from drinking and driving, gotten them to airports in the knick of time, and picked up people from that awkward first date when all they wanted to do was escape. And now people will be rewarded for using Uber in these moments. After a major announcement was made on Wednesday, people might be wondering how to use Uber's rewards program so they can be finally rewarded for those countless evenings out.
Casual and frequent users of the app alike will soon have the opportunity to opt into Uber Rewards, a completely free program with some serious benefits. Anyone who uses UberEats to get their cravings delivered to their door, UberPool to cut down on traveling costs, or UberX to transport their whole family to a fun weekend outing is going to want to opt in for the rewards program.
It's super simple to use, according to TechCrunch. The rewards program lets customers earn every time they use the Uber app — it's really that easy. With UberRewards, people will earn one point for every dollar they spend on their UberEats order or UberPool ride. Users will also receive two points for every dollar spent on UberX, Uber XL, Select, and WAV; three points for every Black and Black SUV ride. All users have to do is sign up when they open their app.
To put it simply, if a ride costs $10, the user will get 10 points. This adds up — especially given that an Uber user in New York City will spend an average of $84 on rides a month, according to MSNBC, which means that they're spending around $1,000 on Uber rides a year. And users will definitely benefit from their spending with Uber Rewards.
But users won't start seeing benefits from the rewards system until they spend over $500 with Uber within six months. There are four reward tiers — Blue, Gold, Platinum, and Diamond — that all have different benefits.
Blue users (which is the level everyone starts out at) simply get the opportunity to earn points and get $5 cash in Uber rewards for every 500 points they earn, according to Uber, which can be spent on rides or UberEats.
Gold users, who spend $500 with the app, get all of those rewards with the benefit of "flexible cancellations" — users can cancel a ride within 15 minutes of ordering it without being penalized. Considering that Uber currently charges cancellation fees for rides on a case by case basis, this benefit should definitely come in handy. Gold users also get priority support, according to Uber.
Platinum users, or those who spend $2,500 with Uber, get priority pick-up at airports (a huge benefit) and price protection on one specific route that they use all the time — which is great during rush hour when prices surge.
Finally, those who spend $7,500 with Uber get the Diamond membership, where they can receive free upgrades on rides, premium phone support, and access to the highest rated drivers on the app. Not a bad benefit at all.
But points are only earned over a six month period, according to The Verge, and once a new level is unlocked, users have until the end of the earnings period and the next six months to get to the next level. So there is a limit to how many points can be earned within a year, which isn't the best news for those trying to achieve Diamond status but only use Uber twice a month.
Unfortunately, not everyone has access to Uber Rewards just yet. Uber Rewards launched on Wednesday in these select places, according to Tech Cruch: Miami, Florida; Denver, Colorado; Tampa, Florida; New York, New York; Washington, D.C.; Philadelphia, Pennsylvania; Atlanta, Georgia; San Diego, California; and the entire state of New Jersey.
It will take a few more months for Uber Rewards to reach the rest of the United States, according to TechCrunch, which gives people plenty of time to start planning out their future rides for the next few months. Never has it been more beneficial to use Uber.