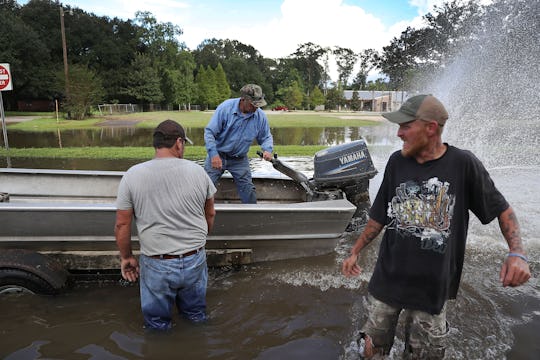 Joe Raedle/Getty Images News/Getty Images
How To Volunteer In Baton Rouge After The Flood
For the past week, flooding has ravaged the landscape of Baton Rouge, Louisiana and surrounding areas. As rain continues to hit the region on and off, flood waters have continued to remain in the region, displacing thousands and leaving many more without necessary resources. Luckily, for those based in Louisiana and surrounding states, there are multiple opportunities for people looking how to volunteer in Baton Rouge after the flood.
According to CNN, the Red Cross has claimed that the current flooding in Louisiana is the "worst natural disaster to strike the United States since Hurricane Sandy." Hurricane Sandy was a hurricane that hit the northern east coast in 2013 and cost New York City an estimated 19 billion dollars in repairs and damages. This means that the Louisiana flooding is a pretty costly and large deal, especially for the state of Louisiana and the residents affected by the flooding. With such a large scope of damage, volunteers' time, money, and help is needed in recovery efforts. "Thousands of people in Louisiana have lost everything and need our help right now," Brad Kieserman, the Red Cross' vice president for disaster services operations and logistics told CNN.
For those who live out of Louisiana, volunteering time might not be the easiest thing to do. Luckily, for those who live in Louisiana and surrounding areas, there are plenty of ways to volunteer in Baton Rouge to help with relief efforts, especially for this upcoming weekend, according to WWLTV.
Volunteer With People
The Red Cross needs help in distributing supplies, assisting in shelters, and moving supplies in warehouses in Baton Rouge. For those — both young and old — interested in helping out the Red Cross with these duties they can register to help online, or visit the Red Cross Headquarters in Baton Rouge at 4655 Sherwood Common Boulevard, Baton Rouge, Louisiana.
The United Way is also accepting volunteers who can sign up to volunteer their time through the United Way's website. The United Way is also in need of cleaning supplies, which can be donated at various locations throughout Louisiana.
Volunteer To Clean Out Homes
Samaritan's Purse is currently looking for volunteers to help salvage precious belongings in homes and remove water logged items from home as well as damaged sheetrock and insulation. According to WWLTV, adults and teenagers can volunteer for Samaritan's Purse and can sign up to volunteer on their website.
The NOLA Tree Project will also be cleaning out homes in Baton Rouge and surrounding areas and are currently accepting volunteers through their website.
Volunteer With Animals
The Animal Rescue of New Orleans is in desperate need of immediate supplies for their shelter and animals in the affected flood area, according to their Facebook page. Volunteers can drop off wet and dry food for both dogs and cats, cat litter, food bowls, and other assorted toys and treats for dogs and cats to the shelter located on 271 Plauche Street in New Orleans, Louisiana.
ARNO is also looking for temporary foster homes for displaced animals — those interested in becoming a temporary foster home can fill out a volunteer application on ARNO's website.
According to WWLTV, the Livingston SPCA is in need of foster homes and donations due to major flooding that has affected the shelter's supplies and foster homes. Those interested in becoming a foster home can go to PetCo at 1653 Millerville Road in Baton Rouge this Saturday to learn more.
Volunteer With Boats
Due to high flood waters in Baton Rouge, boats are still needed to navigate the terrain and get around the area. According to WWLTV, those with boats who want to volunteer should contact the Emergency Office of Preparedness in their area:
Tangipahoa Parrish - 985-748-3211
St. John the Baptist Parrish - 985-652-2222
Livingston Parrish - 225-686-3996
Iberville Parrish - 225-687-5140
Ascension Parrish - 225-621-8360
West Feliciana Parrish - 225-653-6428
East Baton Rouge Parrish - Contact Katie Pritchett at katiep@cauw.org
While the flooding is truly unfortunate, it is incredibly fortunate that those surrounding the affected areas have multiple opportunities to donate their own time and resources to a place that could definitely use the help.