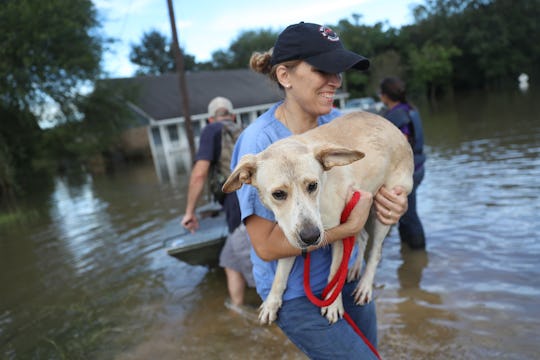 Joe Raedle/Getty Images News/Getty Images
How To Volunteer To Help The Louisiana Flood Victims, Because They Need It
Over the past week, southeastern Louisiana has been hit with obscene amounts of rain leading to massive flooding, and it's still not really over yet; Even more rain is expected later this week. If watching the news has you wondering about doing some good before back-to-school season hits, there are ways to volunteer to help the Louisiana flood victims. And the state could use it, as the mess of rain and flooding is hitting tragic levels. On Sunday, President Obama declared a state of emergency and on Monday night, Louisiana governor John Bel Edwards said that close to 40,000 homes had been affected.
There are at least 11 confirmed deaths from the disaster, though that number could climb in the coming days. Over 20,000 people have been rescued and there are around 8,000 residents in shelters. Edwards expects to close about half of the state's parishes due to disasters. The worse part is that before any help or FEMA assistance can even get rolling, there's going to be standing water for days. It's pretty much the epitome of disaster. According to NOLA.com, Livingston Parrish is estimating that 75 percent of the homes in the area are "a total loss."
So it's terrible. But there are ways to reach out, even not in person, and lend a hand.
Cash Is King
The Salvation Army has been on point in organizing mass "feedings" as they call it in the area. That's a weird term, but when people are displaced from their home it boils down to basic human needs. The best way to help is to text LAFLOODS to 90999 and make an easy $10 donation. It might feel lazy, but cash is always king. The organization also has an online donation form where you can drop some more cash into the coffers for food.
Get Your Hands Dirty
Organizations are recruiting people to show up and work to help the victims in all kinds of capacities. The American Red Cross is accepting volunteers along with some other local-ish organizations. Operation Blessing International, a state run organization called Volunteer Louisiana, and United Ways Louisiana will all be thrilled to put you to work.
Take A Puppy
This is one of those volunteer options that almost feels like cheating, because who doesn't want to foster or babysit a new best friend? It only works if you're local enough (and not a victim yourself), but Animal Rescue New Orleans is all about providing homes for our furry friends.
Send Your Stuff
NOLA.com says that these New Orleans businesses are accepting blankets, feminine hygiene products, diapers and baby wipes, cleaning supplies, and pet crates if you are in the area:
Church Alley Coffee Shop & The Good Shop, 1618 Oretha Castle Haley Blvd.
Dashing Bicycles, 1234 N. Broad St.
Balance Yoga, 120 S. Cortez St.
Solo Espresso, 1301 Poland Ave.
Dirty Coast, 5631 Magazine St. and 2121 Chartres St.
Cane & Table, 1113 Decatur St.
Dancing Grounds, 3705 St. Claude Ave.
Rouler, 601 Baronne St.
The Stacks, inside the Contemporary Arts Center, 900 Camp St.
Buff Beauty Bar, 720 Carondelet St.
Electric Expressions, 2317 Veterans Memorial Blvd., #3
You can also clean your closets or get rid of that old crib in the garage and send it to the Orleans Parish Sheriff's Office at 819 S Broad Avenue, New Orleans, LA 70119. The city that was ravaged by Hurricane Katrina will know what to do with them. Just make sure stuff is clean and bagged, otherwise it gets tossed instead of distributed and it's all for nothing.
The historic flooding is tragic and terrible — but a little compassion and time go a very, very long way.