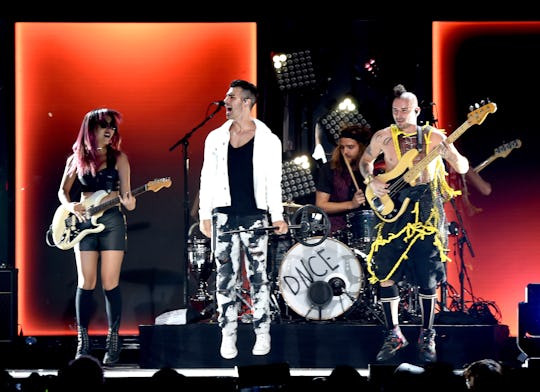 Kevin Winter/Getty Images Entertainment/Getty Images
How To Vote For VMAs Best New Artist Award, Because These Artists Are The Future
The VMAs are almost here once again, which means music artists everywhere are currently coveting for their Moon Man. For many, this won't be the first time they've received a Moon Man from MTV. Many fan favorites, including Adele, Beyoncé, Kanye West, and Justin Bieber are all hoping to add to their collection of Moon Men. But there are five new artists who are currently trying for their first. Bryson Tiller, DESIIGNER, DNCE, Lukas Graham, and Zara Larsson are all nominated for the VMAs Best New Artist Award and here's how to vote for them.
Voting is pretty simple this year. Fans can just go to MTV's VMAs site and click vote. From there you just choose your favorite Best New Artist and log in through Facebook, Twitter, or with you email address and that's it. You can vote once a day leading up to the awards ceremony. It's that easy! All the artists nominated are making sure to remind their fans to vote for them, which isn't a surprise since some of music's best artists won this award when they were just starting out. Alicia Keys, Avril Lavigne, Lady Gaga, Justin Bieber, One Direction, and Fifth Harmony are just a few people that have won the coveted award in the past.
For all the artists this will be their first Moon Man and possibly the first of many. Joe Jonas, of DNCE, was previously nominated for two VMAs when he was a part of the Jonas Brothers, for their song "Burnin' Up," but he's never won before. All the artists nominated are incredible and it may be hard for you to just choose one. Thankfully you can vote for different artists each day. So if you love "Panda" by DESIIGNER, "7 Years" by Lukas Graham, "Don't" by Bryson Tiller, "Lush Life," by Zara Larsson, and "Cake by the Ocean," by DNCE, you can vote for them all.
Just make sure to get your votes in before it's too late. You don't want to miss out on this. Then tune in to MTV on August 28 at 9 p.m. ET to watch the VMAs live and see who wins Best New Artist.