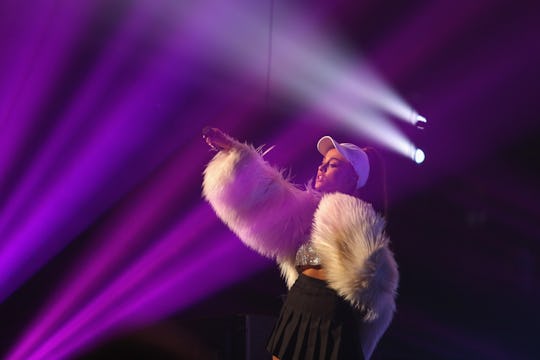 Tasos Katopodis/Getty Images Entertainment/Getty Images
How To Watch Ariana Grande's Benefit Concert
On Sunday, only two weeks after a suicide bombing killed 22 people at her last concert, Ariana Grande will be returning to Manchester to play a benefit concert for the victims of the attack. Her One Love Manchester concert will raise money for those affected by the attack while honoring its victims, and she'll be joined by several other big-name performers, according to the Associated Press. It's bound to be a moving event, but if you couldn't grab tickets (to either the United Kingdom or the concert), here's how to watch Ariana Grande's Manchester benefit concert this weekend.
The One Love Manchester concert will be streamed live in the United States on several networks, and more than 40,000 fans will attend the event in Manchester, with those who were at Grande's concert on the evening of the attack receiving free tickets to the benefit, according to the BBC. Grande will be joined by Katy Perry, Justin Bieber, Miley Cyrus, Coldplay, the Black Eyed Peas, Robbie Williams, and other performers. Proceeds will be donated to an emergency fund created by the Red Cross and the Manchester City Council.
"Music is meant to heal us, to bring us together, to make us happy," Grande tweeted in the days after the attack. "Our response to this violence must be to come closer together, to help each other, to love more, to sing louder and to live more kindly and generously than we did before."
The Manchester benefit concert is set to be a moving and healing experience for anyone whose heart broke over news of the attack. If you don't want to miss it, check out your options for catching the show below.
Freeform
Freeform, the network aimed at children and teens and owned by the Walt Disney Company, will be airing the entire concert live on Sunday. Tune in at 2 p.m. Eastern Time to watch from beginning to end.
ABC
According to Variety, ABC will also be airing a one-hour highlight special of the Manchester benefit concert after the NBA finals wrap up on Sunday. (The game starts at 8 p.m. Eastern Time, so keep an eye out after that.)
Outside The United States
Living outside of the United States? Never fear — the BBC is working with global broadcasters in order to reach as many viewers as possible. Canadians can catch the concert, which will stream ad-free from 1:55 p.m. to 5 p.m. Eastern Time, on CTV, Much, and VRAK, according to the Hollywood Reporter, and Australians will be able to view the concert on Nine and UKTV, according to Variety. British audiences, of course, can tune in on BBC One, starting at 6:55 p.m. GMT or 1:55 p.m. EDT, according to Refinery29.
Looking to stream the concert? Unfortunately, there's been no news of free streaming of the event online — but according to Refinery29, you can access Freeform via Hulu Live (for $39.99 a month), YouTube TV (at $35 a month), or Sling Orange (which costs $20 a month). Most subscription services also offer a free trial, so you can tune into the concert on Sunday and cancel afterwards if you're not looking for long-term streaming access.
Here's to coming together and healing through music, however you manage to tune in.