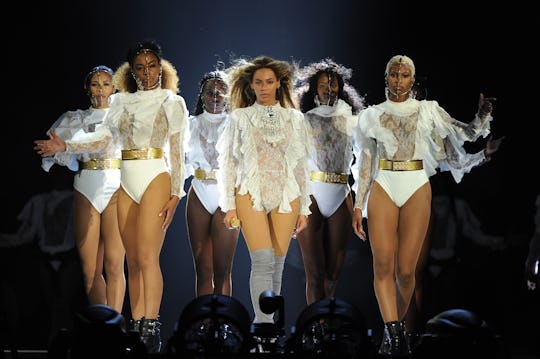 Handout/Getty Images Entertainment/Getty Images
How To Watch Beyonce's Formation Tour If You Can't Find Tickets
There is no denying that Beyonce is unstoppable. How could you not? The singer set Twitter, and the rest of the world for that matter, ablaze after debuting her TV special, "Lemonade" on HBO, not to mention her best selling album. Not long after "Lemonade's" debut, Beyonce embarked on her Formation tour across the United States, delivering her best hits and newest songs to thousands of people in sold out stadiums across the U.S. While I wasn't one of the lucky few to score tickets when Beyonce rolled into my state, I know I'm not the only person to wonder how to watch Beyonce's Formation tour without having any tickets.
Well, there is some good news and some bad news. The bad news is that as of yet, it looks like there are no announced plans to film the Formation tour or air it on TV screens everywhere. So unfortunately, there isn't a way to watch Beyonce's Formation tour if you can't find tickets.
But I wouldn't lose hope, yet. In 2014 after her On The Run world tour with husband Jay Z, Beyonce and company aired a taping of one of the stops during the On The Run to HBO, so a taping isn't quite out of the question yet either. Very good news, indeed.
HBO aired the On The Run Tour special on September 20, 2014, after filming for the tour was done in Paris during their September 12 and 13 tour dates. The special featured the performances of 40 or more songs from both Jay Z and Beyonce's song catalogue. This is promising because Beyonce aired the visual portion of "Lemonade" on HBO the same night she debuted the album. This connection with HBO and previous concert special airing could mean that a Formation tour movie could be on the way, despite no formal announcements being made about it.
But I could see why Beyonce fans would want to watch the Formation Tour without having to obtain any tickets. Tickets to the tour have become increasingly expensive and hard to find, with multiple venues, like her New York City shows, selling out. The tour has gotten fantastic reviews and has fans without tickets, like myself, feeling a serious case of FOMO from not being able to see it.
Cross your fingers and your toes that Beyonce tapes one of her stops on the Formation Tour, as it looks like for now, that is the only way fans will be able to get a glimpse of the Formation Tour without any tickets.