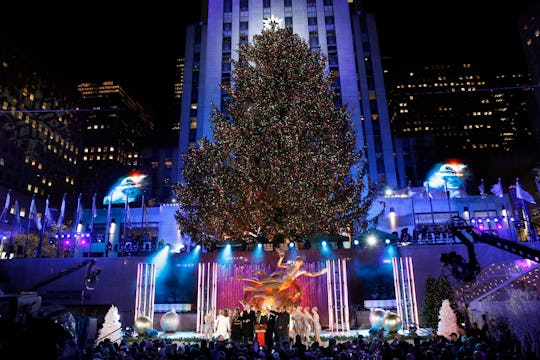 Eric Liebowitz/NBC
Here's How You Can Enjoy 'Christmas At Rockefeller Center' Without The Crowds
For many people, the holiday season officially begins with the lighting of the Rockefeller Center Christmas tree. New York City crowds gather around Rockefeller Plaza every year to watch the iconic tree shine, but if you want to join in on the celebration from home, you should know how to watch Christmas in Rockefeller Center.
You can watch Christmas in Rockefeller Center on NBC, which will begin airing the star-studded event at 8 p.m. ET on Wednesday, Nov. 28, with the actual tree lighting happening at 9 p.m. ET. The two-hour special will continue until 10 p.m. ET, but for those who can't wait to jump in on the holiday action, there will be a pre-show that starts at 7 p.m. ET on NBC. If you are using your phone or mobile device, you can watch the celebration through the NBC mobile app, and cable subscribers can access NBC live with a login and password online.
Believe it or not, this iconic New York City event is celebrating 86 years of merriment this year. According to NBC, the tradition of the Rockefeller Christmas tree goes back to the time of the Great Depression, when it was first erected in 1931. Back then, the tree was decorated with 700 lights and was showcased in front of the RCA Building (now the Comcast Building), but the celebration moved when the Rockefeller Center outdoor ice-skating pond opened in 1936. The tree lighting was televised for the first time in 1951 on NBC, and its broadcast has remained a holiday tradition ever since.
This year's tree is a 72-foot tall and 45-foot wide Norway spruce, noted NBC, and the 75-year-old giant was transported from Wallkill, New York. According to the Rockefeller Center, it will be adorned with 50,000 multi-colored LED lights and topped with a 9-foot Swarovski star featuring 3 million Swarovski crystals adorned across 70 triangular spikes. For all spectators near and far, the lighting of this massive Christmas tree is truly a breathtaking site.
But the tree isn't the only star of Christmas at Rockefeller Center. The special will feature a number of guest appearances and performances, including performances from the Radio City Rockettes and the New York City Ballet. You'll see musical performances from music icons like Diana Ross and Tony Bennett, and top artists including Ella Mai, Diana Krall, Brett Eldredge, Darci Lynne Farmer, John Legend, Rob Thomas, Martina McBride, Pentatonix and Kellie Pickler will also perform. Today anchors Savannah Guthrie, Hoda Kotb, Al Roker and Craig Melvin will host the two-hour special. The pre-show will feature Tony Award winner Billy Porter, Tony Danza, and the voices of New York City's PAL Cops & Kids Chorus and will be hosted by Mario Lopez.
But if you're still craving more Christmas cheer after the tree lighting extravaganza is over, don't fret, because NBC is bringing you another hour of holiday celebrations. Singer John Legend and his celebrity wife Chrissy Teigen are giving fans a treat with their own TV special called A Legendary Christmas with John and Chrissy. Their one-hour holiday special will air at 10 p.m. ET, right after Christmas at Rockefeller Center, and will showcase songs from Legend's latest Christmas album, along with a number of guest appearances from celebrities including Stevie Wonder, Jane Lynch, Kenan Thompson, and the Fab Five from Queer Eye.
So mark your calendars and set your DVR on Nov. 28, because Christmas at Rockefeller is bringing the holiday celebration home to you, along with spectacular NBC pre-show, and a celebrity Christmas special right after.
This first-time mom wants to have a home birth, but is she ready? Watch how a doula supports a military mom who's determined to have a home birth in Episode One of Romper's Doula Diaries, Season Two, below. Visit Bustle Digital Group's YouTube page for the next three episodes, launching every Monday starting November 26.