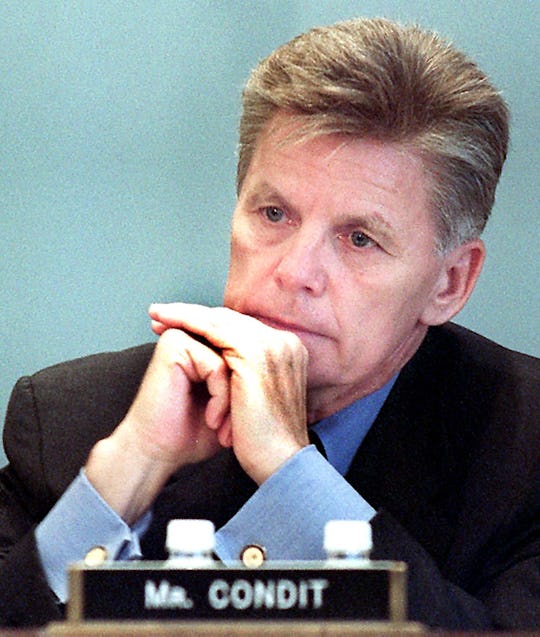 MANNY CENETA/AFP/Getty Images
How To Watch Gary Condit's 'Dr. Phil' Interview, Because You Won't Want To Miss It
After years of silence and intense scrutiny following the mysterious death of Chandra Levy, former California congressman Gary Condit will speak about the murder case and address the reports of an affair he allegedly had with the 24-year-old intern for the Federal Bureau of Prisons. Controversy quickly surrounded the politician's alleged involvement in Levy's disappearance at the time of Levy's death in 2001 (her remains were found later, in 2002), drawing widespread media attention. It's now been more than a decade since Condit has spoken publicly about the murder on Capitol Hill that shocked the nation back and he's set to address his alleged involvement in a televised interview with famed psychologist Dr. Phil McGraw this Thursday. Here's how to watch Condit's Dr. Phil interview, because it's reported that there will be a surprising twist about the murder mystery that once dominated national headlines and might break open unsolved case again — and you won't want to miss it.
The interview is set to air this Thursday, Oct. 27. As for the the exact time and which channel the interview will be broadcasted on, it will depend on where you live. You can check your local listings here if you plan on catching the entire episode live on television. Typically in New York City, for example, Dr. Phil airs Monday through Friday at 3 p.m. and 8 p.m. ET on CBS.
But, don't worry if you're without a television set, since much of television provides streaming options for millennial folks anyway. The first option for those with a provider, but without a television, is to watch it online via the CBS website. Make sure you have a username and password handy because you'll have to provide information for your roommate's/friend's/coworker's account.
The next option is to watch it through CBS All Access, the network's streaming option. If you don't have an account already, you can sign up for one month free and pick either the limited commercial option for $5.99 a month, or completely commercial free for $9.99 a month. But you will have to provide credit card details and remember to set a reminder to cancel your subscription if you decide not to keep the service.
Unfortunately, finding full Dr. Phil episodes stream anywhere online once they've aired can be difficult. But you may be able to find clips from the interview posted either on the Dr. Phil website or the show's YouTube page. Otherwise you might be able to catch a bootleg version posted on YouTube before it gets taken down (or may have to wait to tune into a re-run on a rainy day).
If you need a refresher, the murder that the Dr. Phil interview will address is from 2001, when Levy was serving as an intern for the Federal Bureau of Prisons in Washington, D.C. Levy reportedly disappeared during a jog. A year later, her remains were found near a trail in the capital city's Rock Creek Park.
Condit was involved in the investigation because he reportedly admitted to having an affair with Levy during a 2001 police interview. The now 68-year-old has since denied having any personal relationship with her. Condit was ruled out as a suspect early on in the investigation after authorities matched his DNA to evidence collected from Levy's underwear in her apartment.
"I saw her one time outside the office at a restaurant, and she came by my condo once — well, maybe twice," Condit tells Dr. Phil in a clip for the upcoming episode. "I think it was twice." He then added, "I want to make this clear: There's nothing unusual about someone coming by my condo, a lot of people did."
In 2010, Ingmar Guandique, a Salvadoran undocumented immigrant, was ultimately charged with the murder, but over the summer, federal prosecutors dropped all of the criminal charges against Guandique.
With the recent dismissal and release of the sole suspect convicted in Levy's murder, Condit's interview on Dr. Phil may reveal insight into the mysterious cold case that, brought back into the spotlight, is still as shocking today as it was in 2001.