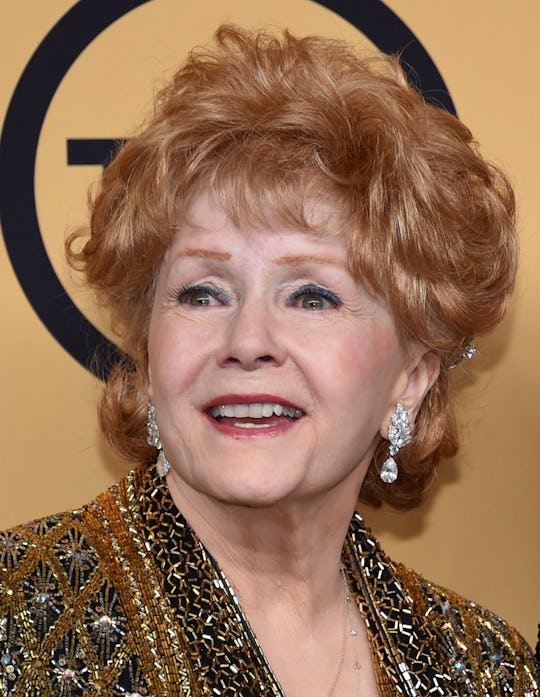 Ethan Miller/Getty Images Entertainment/Getty Images
How To Watch 'Halloweentown' With Debbie Reynolds
Debbie Reynolds was a Hollywood starlet before most of today's hottest actresses were even born. She died Wednesday after suffering a stroke just 24 hours after the death of her daughter Carrie Fisher. Now fans across the world are turning to some of Reynolds most beloved movies to remember her life and immense Hollywood legacy. Her career spanned six decades, leaving an indelible mark on the lives of generations of movie fans. For younger movie lovers, it's her role as Aggie Cromwell that might be the most memorable. Here's how to watch Halloweentown with Debbie Reynolds, because it's always a good reminder, as her character Aggie says, that "being normal is vastly overrated."
In the 1998 made-for-TV Disney movie, and it's sequels, Debbie Reynolds plays Aggie Cromwell, grandmother to Marnie Piper, who comes for a visit to start the little girl's training to be a witch before her 13th Halloween when she will lose her magical powers forever, according to IMDb. Marnie was played by actress Kimberly J. Brown who took to Facebook to remember Reynolds after news of her death started to spread, E News reported.
"What do you say about a woman who had such an impact on your life both professionally and personally?" Brown, who is now 32, wrote according to E News. "Debbie lived her life like all of us should, to the fullest. She was bold, funny, and had the biggest heart."
And about getting to hear Reynolds' many Hollywood tales from throughout the years, Brown added, "and her jokes about her amazing career and life would make your stomach hurt with laughter."
If you're interested in re-watching Halloweentown, there are a few easy ways to find the movie.
Amazon Video also has Halloweentown available for rent for $3.99 or purchase for $5.99. And for $19.99, the Disney Store has a DVD available with a double-feature of Halloweentown and Halloweentown II Kalabar's Revenge. The DVD also includes bonus features like a backstage tour of Halloweentown by Kimberly Brown, according to the Disney Store.
It might have been just a kids' Halloween holiday movie, but it meant a lot to a generation of fans who probably never saw Singing in the Rain or any of Reynolds' other classic hits, something which Kimberly Brown talked about recently with Refinery 29 while reminiscing about her time working with the Hollywood legend on the set of Halloweentown. Brown told Refinery 29:
By the time we started production, I believe I had seen The Unsinkable Molly Brown, which is such a great movie. I knew that she had done Singing in the Rain, and some other films, but I hadn't seen a ton of her work. With young kids, she still introduces herself as Princess Leia's mom, which is always fun to see.
Princess Leia's mom might be gone now, but generations of kids will always have Halloweentown and grandma "Aggie" to remember her by.