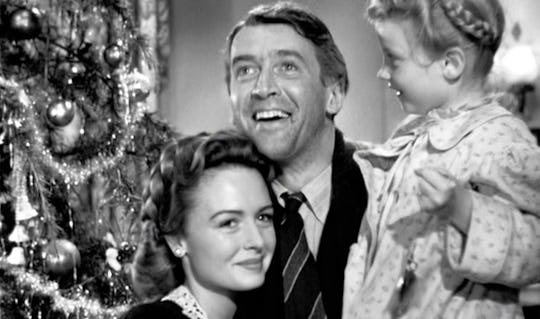 Paramount
Here's How To Watch 'It's A Wonderful Life' This Holiday Season
The holiday season is upon us and what better way to celebrate than by watching one of the most iconic Christmas films of all time: It's a Wonderful Life. The story follows George Bailey on a journey of self discovery as he sees just how much he positively impacted the lives of others and that life truly is, well, wonderful. The heartfelt movie is perfect for all ages, which is why you may want to know how to watch It's a Wonderful Life this holiday season. Thankfully, you have a lot of options.
If you want to catch it on TV, USA is showing the classic movie twice, once on Saturday, Dec. 9 at 8 p.m. EST and then again on Sunday, Dec. 10 at 1:00 a.m. EST. You'll probably also find it running on air a few more times prior to and even on Christmas Day, so make sure to check your local listings. Additionally, some theaters are also bringing the iconic film back to the big screen for the holiday season. You can check Fandango or your local theater to see where and when the movie is airing near you.
If you want to watch the movie immediately or on your own time, you can also purchase it from Amazon Video for just $7.99 or from iTunes for $14.99. You can purchase the DVD for $8 or the Blu-ray for $9.99 from Amazon.
Alternatively, if you've ever wanted to see how the movie plays out onstage, it appears there's now a stage play in certain areas. The production of It's a Wonderful Life seems to be very popular since all the showings of it in Midland, Pennsylvania are already sold out.
No matter how you watch it, though, It's a Wonderful Life is the perfect movie for the holidays. As you follow George along with his guardian angel, Clarence, you (along with George) learn a valuable lesson about life and the important role you play in it. But just in case you had any doubt about how wonderful this film is, It's a Wonderful Life was nominated for five Academy Awards. Sadly, it didn't win in any of the categories, which is a travesty to this day, but that's still a major accomplishment. The movie's themes and story are timeless, and it's a film you can watch with the whole family, or with friends.
Also, did I mention the incredible cast? Besides James Stewart, who plays George perfectly, the movie also starred Oscar-winner Donna Reed as George's wife, Mary; Henry Travers as Clarence; Lionel Barrymore as the villainous banker, Mr. Potter; and the adorable Karolyn Grimes as George's daughter, Zuzu. It is Grimes' character who famously let us know that the bell that sounds at the end of the movie means that an angel (Clarence) just got his wings.
Last year marked the 70th anniversary of this classic, which was first released in 1946 to very modest box office sales, if you can believe it. Clearly, people in the '40s just didn't realize how much a gem they had on their hands back then, but now everyone knows It's a Wonderful Life for the masterpiece it is. However, Grimes revealed in an interview with the other Bailey children for The TODAY Show, that the movie was actually marketed as a romantic comedy and wasn't even supposed to be a Christmas movie; it was actually supposed to be released in March.
But whether it was meant to be or not, It's a Wonderful Life has definitely become a movie meant for the holiday season. Hopefully, you get a chance to watch it with the ones you love.
Check out Romper's new video series, Romper's Doula Diaries:
Watch full episodes of Romper's Doula Diaries on Facebook Watch.