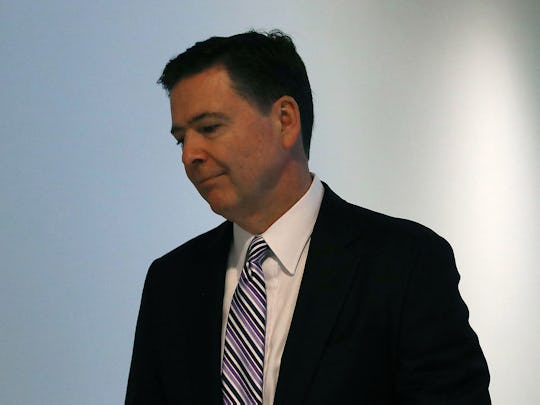 Mark Wilson/Getty Images News/Getty Images
How To Watch James Comey's Testimony On Russia's…
The ongoing saga of Russia's alleged interference in favor of President Donald Trump in the 2016 election at times seems stranger than fiction. And then, of course, let's not forget Trump's still-unsubstantiated claims that he was wiretapped by British intelligence forces last year, at former President Barack Obama's request. But on Monday, FBI director James Comey will be expected to answer for both of those claims (or, attempt to, at least) during a hearing with the House Intelligence Committee. Wondering how to watch James Comey's testimony on Russia's alleged election interference? The hearing is scheduled to begin at 10 a.m. ET, according to The Washington Post, and will mark the first time that Comey will have testified publicly since Trump took office. National Security Agency director Admiral Michael Rogers will also be asked to testify in front of the committee.
For those wanting to follow along live, the good news is there will be plenty of options. In addition to being broadcast on major network and cable news channels, the hearing will also be streamed online (C-SPAN.org, MSNBC, and CBS News, for example, will all livestream the event, as will the House Permanent Select Committee on Intelligence website). The information gathered at the hearing will be used by the House Intelligence Committee in its investigation into the role Russia may have played in swaying the election, but according to The Washington Post, Comey has yet to comment publicly on allegations that the FBI and the Justice Department are also investigating the issue. As such, it's expected that Comey will likely be asked to comment directly on the existence of an FBI investigation, and lawmakers on both sides are anxiously awaiting to hear what he will say.
It's not entirely clear how he will respond, but according to CNN, one thing Comey is expected to comment on and debunk are Trump's wiretapping allegations. And once again, it's something many in the House have been waiting to hear him do: according to CBS News, Arizona Sen. John McCain, South Carolina Sen. Lindsey Graham and Rhode Island Sen. Sheldon Whitehouse publicly called on Comey last week to confirm whether the FBI was investigating the wiretapping claims, with Graham threatening to issue subpoenas if he did not respond.
But Trump, for one, has continued to hold on to his claim — even going as far as joking during an (extremely awkward) news conference with Germany Chancellor Angela Merkel that the one thing they had in common was that they were both wiretapped by Obama, according to The Guardian. Thankfully, Merkel's priceless, baffled reaction more than made up for that moment, but it appeared to be clear that Trump was certainly not ready to back down from his claim (and possibly that he still may not, regardless of what Comey says today).
The significance of Comey's testimony though seems to highlight once again the unusually high-profile role he played during the election — one which he now continues to occupy amidst the Trump administration controversy. Even before Trump took office, many looked to Comey's pre-election comments about former Secretary of State Hillary Clinton's emails as having had a huge impact on the outcome of the race, according to The Independent, and now, many are also wondering about the influence Comey's comments could have on Trump's presidency. Perhaps unsurprisingly though, the POTUS has already gone on the attack, tweeting Monday morning that any notion of collusion with Russia was "fake news," and that it was a story made up by the Democrats to distract from what he called their "terrible campaign."
Either way, there's no denying that Comey's hearing will be an important one to watch, and that his comments will likely have big consequences no matter what he actually says. And there's no doubt that the country will definitely be watching.