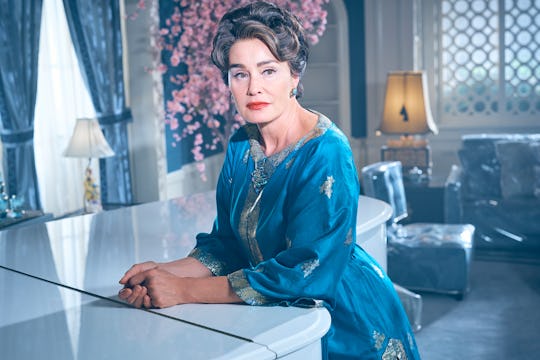 Kurt Iswarienko/FX
Joan Crawford Clapped Back At Bette Davis At The 1963 Oscars
Ryan Murphy's series Feud is deep exploration of the well known rivalry between Hollywood legends Bette Davis and Joan Crawford. Sunday's episode will center around what went down in history as the climax of their rivalry: the 1963 Academy Awards. But you don't have to rely on FX to see the reenactment of that year's Oscar's ceremony. You can watch the real Joan Crawford 1963 Oscar acceptance speech all over the internet. And you'll be glad you did. Unlike the more contemporary televised, obvious beefs that TV addicts are so accustomed to watching on shows like say, The Real Housewives franchise, the feud between Crawford and Davis was much more subtle and the 1963 Oscar speech is a lesson in just how far these two would go to get under the other's skin.
Feud begins with the filming of What Ever Happened To Baby Jane?, the first and only film that the two Hollywood icons would ever star in together. Their distaste for each other was well documented in the press, which is why real fans of Hollywood were likely aghast in their seats watching the Oscars that year. Davis was nominated for an Oscar for her performance in the hit film and Crawford was not. But that didn't stop the latter from making an appearance on stage.
Instead of sitting in the audience and having to pretend to clap for her rival, Crawford set out on a campaign to ensure that she would be the only Baby Jane star to hold an Oscar that night. Sarandon told People of that year's award show:
Joan went around with [actress and gossip columnist] Hedda [Hopper] and did everything she could to make sure Bette didn't win. And Bette was counting on the Oscar to keep getting leading roles, since they had gone away.
Crawford didn't rig the votes (that we know of, obviously), but she did congratulate all the other nominees in the category on their possible win and, being the polite woman that she was, offered to accept the award on their behalf. Just in case they won and were, say, out of town.
Luckily for Crawford, her plan worked out. Davis didn't win and Crawford sauntered right up on stage to accept Anne Bancroft's award for The Miracle Worker. So it was kind of a double whammy for Davis: not only did she lose, she had to put up with watching Crawford give a speech and get to pose for pictures with the award in her hand.
It's not the nicest thing in the world, but you have to hand it to Crawford: that was the craftiest, cattiest way to get back at her rival. No matter how many tables you've seen flipped on Bravo or Remy Ma diss tracks you listen to: Crawford and Davis definitely win the award for Best Mean Girls ever.