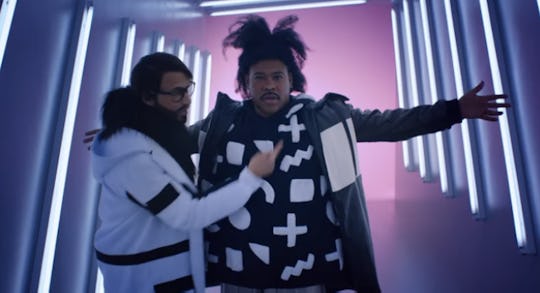 How To Watch Key & Peele's 'Real Talk' During The Super Bowl, Because The Big Game Can Be Even Better
America's National Holiday, otherwise known as Super Bowl Sunday, has already bowled us all over with its excess alcohol and cheese. But now the excess of the day has just become even more overwhelming. Because, this year, Key and Peele will live stream commentary for the Super Bowl in connection with their Squarespace campaign. And you thought the funniest thing you'd see during the game were the commercials. (Oh, and sad Tom Brady.)
That's right — there is something to be more excited about than just a great game and having a nationally accepted excuse for your hangover on Monday morning. The comedy team — whose full names are Keegan-Michael Key and Jordan Peele — is partnering with the site builder to bring us Real Talk, which stars the duo as characters Lee and Morris. Squarespace has already released spots teasing the live commentary, but how can users watch Real Talk's live stream?
Why, on Squarespace itself, of course. Starting at 6pm ET, fans of the comedy duo can tune into Lee and Morris' improv-ed play-by-play here on Real Talk's online home. (Right now, the site is home to a countdown, which is winding down all too slowly.)
And it's sure to be hilarious. According to Anthony Casalena, the CEO of Squarespace, Key and Peele plan on "hanging out for hours making things up." Add beer and cheese to the mix, and you've got a real touchdown of a Sunday night planned.
At the very least, Real Talk will hold you over until the kitten-friendly Keanu. April 29 can not come fast enough.