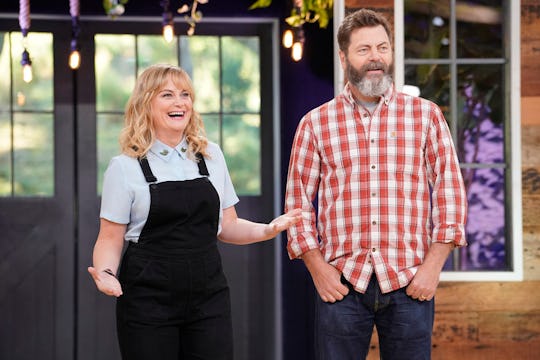 Paul Drinkwater/NBC
You Don't Want To Miss This Upbeat Reality Competition
The new NBC series Making It is a creative twist on competitive reality shows. A group of skilled craftspeople will compete by making increasingly complicated handcrafted goods. Someone is eliminated week by week, but that doesn't dull the positivity of the experience. And the whole thing is hosted by Amy Poehler and Nick Offerman, with a panel of judges dedicated to making every craft the best it can be. It's a show you won't want to miss, so you might be wondering how to watch Making It. Luckily, there are options.
Making It airs on NBC every Tuesday night, so if you have a TV and a cable provider then you're good to go. But if that isn't a possibility for you, then you may have to get a little bit (I'm so sorry) craftier when it comes to figuring out how to tune in. The show has yet to make its way to Netflix, but it seems like you might be able to find it on Hulu. No episodes have been posted ahead of the July 31 premiere, but Making It does have its own page complete with clips. It seems likely that the episodes will go up sometime after their air live on NBC. If you have a Live TV on Hulu subscription, you might find the show there are well, depending on your local channel availability.
If you'd like to go all in and purchase a season pass from your preferred services, then you may have to wait. Making It cannot be bought from Amazon or iTunes at the moment, though it's always possible that may change as the season progresses. But while Hulu is your best bet for watching without a television, it's not the only option.
Once again, it's not available yet, but there is a good chance episodes of making it will be going up on the NBC website as well. Their page for Making It is packed with clips ahead of the show's debut, and they do generally put up full episodes of their shows once they've aired. In addition to the website, NBC has apps for iOS, Android, Roku, Amazon Fire TV, Apple TV, and plenty of others. You may need a cable provider to sign in, but then you're good to go.
It may be slightly difficult to get ahold of Making It if you don't already have cable, but it might be worth the extra effort. At only six episodes, it should see you through to the end of the summer if you watch it week by week, but it would be a nice little marathon if you waited until Season 1 was over to watch it all at once. Reviews have indicated that the show could be just the thing to help you unwind from the stress of everyday life, too, because it's so relentlessly comforting.
The Atlantic called Making It "is a total joy, a cashmere-swaddled hug of a show that exudes geniality and zany warmth." With Poehler and Offerman reuniting as hosts after their days on Parks and Recreation together, there's charisma and upbeat energy from every corner. They're assisted by two judges, fashion expert and Barneys creative ambassador Simon Doonan, as well as Etsy trend expert Dayna Isom Johnson. Potentially modeled on the much-beloved The Great British Baking Show, it seeks to capture the same sense of well-being that show imparts.
Making It seems like it's show that wants its audience to feel good. No matter how you watch it — even if you have to get a little inventive to find a way — it promises to be a relaxing TV experience.