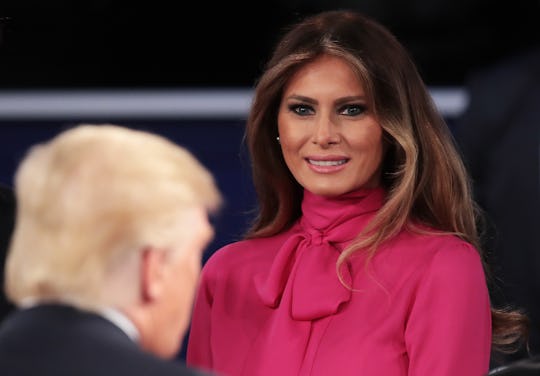 Scott Olson/Getty Images News/Getty Images
How To Watch Melania Trump's Anderson Cooper Interview & Join In On The Hype
On Monday night, Melania Trump broke her silence and gave an interview on CNN regarding her husband, Republican nominee Donald Trump's lewd comments about women and the recent allegations of sexual assault. If you've been wondering what the prospective first lady thinks about her husband's alleged behavior, you need to know how to rewatch Melania Trump's Anderson Cooper interview to see for yourself what she has to say. It aired on Monday night on CNN, but knowing the cable news channel, they'll airing the highlights over and over and over again all week. If you want to watch the interview in full, you can access the interview via CNN's on-demand offerings with your cable subscription, via the CNN Go app on Apple TV or Roku, or stream the video from the CNN Go website.
The interview was odd to begin with, if only because her husband wasn't there with her for the interviews, which (sadly) has become protocol for political couples looking to salvage votes after a scandal of any sort. But Melania stood by her husband saying that she believes him when he says he never groped any of his accusers and that he was truly sorry for the lewd comments in the leaked 2005 Access Hollywood tapes. Melania said that she told Trump the language was inappropriate and unacceptable, but she also thinks the whole thing is a bit unfair.
She told Cooper, "And as you can see from the tape, the cameras were not on —it was only a mic. And I wonder if they even knew that the mic was on." She added that they were just having "boy talk" and that she thinks her husband was "led on, like, egged on, from the host to say dirty and bad stuff." Her reaction to the comments is in line with her husband's, who called the conversation, "locker room talk."
When it comes to the sexual assault allegations, things apparently get more complicated for Trump's wife. She said that she believes groping is sexual assault, but also backed her husband's defense that the women are not attractive enough to sexually assault. She also believes the women and the accusations were planted from her husband's opposition. "Every assault should be taken care of in a court of law. And to accuse, no matter who it is, a man or a woman, without evidence is damaging and unfair," she said.
On Tuesday, Fox News' Fox and Friends will air its own interview with Melania. In that conversation, she reportedly calls her husband's words offensive, but stands by his campaign's decision to go after former president Bill Clinton's past in response to the allegations against Trump. Whatever you do, make sure you tune in.