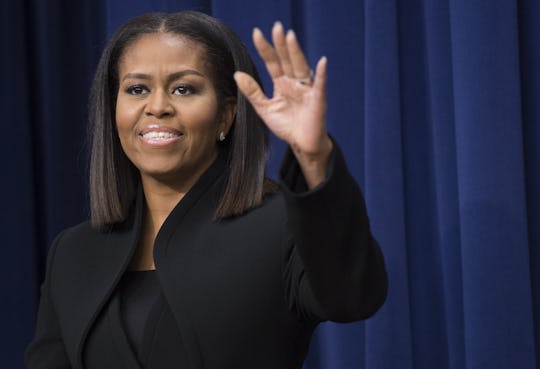 SAUL LOEB/AFP/Getty Images
Michelle Obama's Final Address Is Fast Approaching
Joking last year that this event would be one of her final White House duties "before they kick us out in January of 2017," first lady Michelle Obama will honor the country's school counselor of the year in a ceremony on Friday. Seeing as this might be the final opportunity to hear her speak while in this important role, it's important to figure out how to watch Michelle Obama's final address as first lady beforehand, because you won't want to miss it. Mrs. Obama definitely knows how to give a powerful speech — one that moves and affects its listeners while inspiring hope. This one will likely be no different.
On Friday, Mrs. Obama will host an awards ceremony at the White House, which will mark the third annual Counselor of the Year ceremony. The first lady's speech at last year's event addressed her commitment to the occasion, regardless of her no longer living or working in the White House. "We're going to keep shining that light on the work that you do, and ensure that whatever — whoever lives here next will continue this tradition and this work," she said at the time. "You all truly deserve nothing less. You all are heroes."
She also shared her belief that "all of this is really about creating a movement to support our school counselors for years, even generations to come," a movement that, she believes, "starts with simple awareness by making sure that people across this country truly understand the critical role that you play in educating our kids and preparing them for good jobs and successful lives."
The ASCA's website notes that this year's event will be streamed on the White House's website at 10 a.m ET (here's the link to the White House's "Live Access" page that will take you right there). If you can't tune in on time, a transcript of the speech should be made available on the White House's "Speeches and Remarks" afterward, along with a corresponding video posted to its Youtube channel.
Other events that will happen prior to Mrs. Obama's address include a panel discussion concerning important figures in education, from Education Secretary John B. King Jr., to former Education Secretary Arne Duncan, to actress Connie Britton, among others.
The American School Counselor Association (ASCA) has chosen Terri Tchorzynski from the Calhoun Area Career Center in Battle Creek, Michigan to receive its Counselor of the Year award. In her seven years as a counselor, Tchorzynski has made her mark on many lives. "Her passion for service to others, to her students, her integrity and her work ethic make her an invaluable member of our student services team," her principal, Tim Staffen, said in a statement.
Whether you're looking to support the important role counselors play in education or to see Mrs. Obama speak one last time before she re-enters the private sector, make sure to mark the occasion on your calendar before Friday — you won't want to miss it.