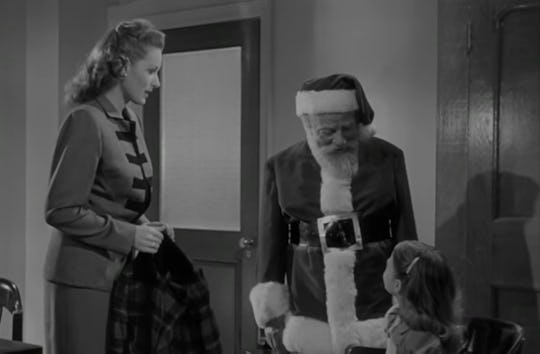 20th Century Fox
Watching 'Miracle On 34th Street' Will Make You Feel Like A Kid Again
There are a lot of great Christmas movies out there, but my personal favorite has always been Miracle on 34th Street. Whether it's the original black and white version or the '90s remake, which stared Mara Wilson, the movie is perfect to put me in the holiday spirit. If you love this movie as much as I do, you probably want to know how to watch Miracle on 34th Street.
If you have the Sundance Channel, you can find the original film playing on repeat on Sunday, Dec. 10 beginning at 3 p.m. EST. Unfortunately, it's not listed as showing on any other channels at the moment, but that will most likely change closer to Christmas. If you would like to watch the movie right away, you have a few options.
Both versions of the film are available to rent on Amazon Video and iTunes for $3.99 each and or you could buy them for $7.99 on Amazon Video or $14.99 on iTunes. You could also purchase a DVD of the 1947 black and white version of the film for $7.99 on Amazon. However, the 1994 version is a bit more expensive, and the DVD will cost you at least $14.88 on Amazon. But, in my opinion, it's more than worth it.
You can also see the original Miracle on 34th Street playing at a theater near you — just check Fandango or your local theater's schedule to see if it's showing around your area. Also, just like many other classic Christmas films, Miracle on 34th Street has been turned into a stage production, and there's even a musical version currently playing in Washington, D.C. Apparently the musical was actually written way back in 1963 and titled Here's Love, but that didn't last long. After a revision in 2015, the musical is now playing at Toby's Dinner Theatre.
While I'm certainly interested in seeing the musical, I can't wait to grab a cup of hot chocolate and watch the original movie and remake at home. If you've never seen either film before, it follows the story of Kris Kringle who gets a job as Santa Claus at Macy's following the Thanksgiving Parade. Kris claims he really is Santa Claus, which leads to some nonbelievers trying to squash his (and the store's) success. Enter Fred Gailey, the perfect lawyer, who decides to take on Kris' case and proof he is, in fact, jolly old Saint Nick.
Meanwhile, Doris Walker, who works at Macy's and hired Kris to be the Santa Claus, is a single mom with a daughter named, Susan. Susan is incredibly practical for a child and therefore doesn't believe in Santa Claus, but Kris is determined to prove to her, as well as everyone else, that Santa is real. Thus, Susan asks him for the one thing she really wants and believes he can't possibly actually get her: the perfect house. If you've never seen the movie I won't spoil the ending because it's fantastic, but the end warms my heart every time, which is why it's so fun to watch over and over again.
The original movie was critically acclaimed, as it should've been, and won three Academy Awards, including one that went to Edmund Gween who played Kris Kringle. It was also nominated for a fourth Oscar in the Best Picture category. Although the '90s remake didn't receive the same level of critical acclaim, it did have a tough act to follow and that doesn't mean it isn't just as good, though. Both are great, heartwarming movies, and you'd probably enjoy either one. But why choose one when you can watch both?
Check out Romper's new video series, Romper's Doula Diaries:
Watch full episodes of Romper's Doula Diaries on Facebook Watch.