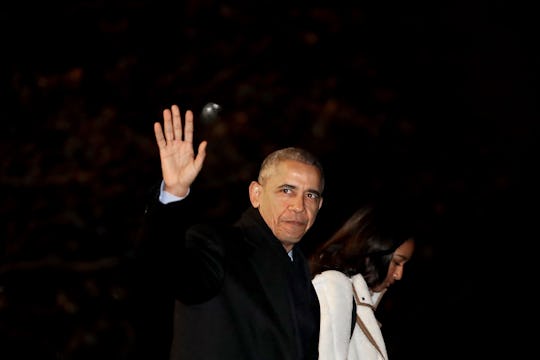 Chip Somodevilla/Getty Images News/Getty Images
Where To Watch Obama's Farewell Address
For many, the new year symbolizes change — a new year on the calendar marks a brand new chapter in the metaphorical book of life. While some people's worlds might not change completely, the United States will be welcoming a major change with the new year. President Barack Obama will be leaving office and president-elect Donald Trump will taking over. But Obama is not going to go out quietly — and heres how to watch Obama's farewell address before Trump takes over for good.
Obama will give his parting words on Tuesday Jan. 10, so be sure to mark your calendars for what is sure to be a bittersweet goodbye. People will be sad to see Obama go — according to International Business Times, Obama's approval rating for the month of December was an average of 53.1 percent. In comparison, according to International Business Times, George W. Bush had an approval rating of 29 percent during the December of his last year of presidency.
Obama's leaving is one goodbye that people will definitely want to tune in for — and they can watch it by tuning in online. According to the White House, the president's farewell address can be watched on the White House website or on Facebook. Those in the Chicago, Illinois area who want to watch it in person can get tickets to watch Obama deliver the speech, which will be held at McCormick Place in Chicago, Illinois.
Obama will be giving the speech from Chicago, the place where he called home for so long and got his political start. Obama teased about his remarks that will be made during the Tuesday night speech in an official statement from the White House. According to the White House:
I'm just beginning to write my remarks. But I'm thinking about them as a chance to say thank you for this amazing journey, to celebrate the ways you've changed this country for the past eight years, and to offer some thoughts on where we all go from here.
Since 2009 we've faced our fair share of challenges and come through them stronger. That's because we have never let go of a belief that has guided us since our founding — our conviction that together, we can change for the better.
So I hope you'll join me one last time. Because for me, it has always been about you.
It is tradition for presidents to give their final farewell address before leaving office for good. According to MSNBC, this is the first opportunity for presidents to "speak freely," having the opportunity to discuss regrets made in office and the direction the country should head in, candidly. During George W. Bush's farewell speech, he defended his own actions as president and stood by the decision to begin the war on terrorism, according to MSNBC. Given Obama's previous words on the president-elect and his own accomplishments during his presidency, this will definitely be a farewell speech that people will not want to miss.
The new year will deliver a new president a new direction for the United States. But before those living in the U.S. can welcome the change, they must say goodbye to the man in charge for the past four years.