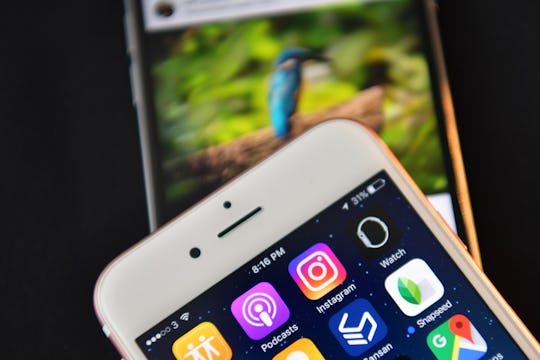 Carl Court/Getty Images News/Getty Images
How To Watch Pinned Stories Highlights On Instagram
Another day, another Instagram update — or at least, that's what it often feels like. The latest change, however, is actually pretty cool: Stories Highlights lets Instagram users keep their stories around for more than a mere 24 hours, allowing them to use pinned stories as a permanent part of their profile. That means users can now pin that one hilarious video of their toddler, a look at their favorite hike, or that unforgettable concert to their profile. Curious to see what people are highlighting? Here's how to watch pinned Stories Highlights on Instagram.
To see others' Stories Highlights, all you have to do is click on their profile, where you'll see all of their pinned Stories below their bio (as opposed to their disappearing, 24-hour Stories, which you can access by simply clicking their profile picture). Click any of the Stories Highlights below their profile picture to see the full reel. And if you get to the end of one Stories Highlight, you'll automatically start watching the next one unless you exit out.
You can also go back and rewatch Instagram users' pinned Stories more than once, since these Stories Highlights don't disappear unless the user posting them edits or deletes them.
To add your own Stories Highlights to your profile, simply click the "New" button below your own bio and put together a new Stories Highlight. You can draw from your archived stories to put together a collection, and then you can select a cover frame and name your new Highlights reel. There's no limit to the number of Highlights you can post, and you can edit or delete them once they've worn out their welcome on your profile.
All stories you capture will now be automatically saved to your Story Archive, and from there, they can be re-shared to your Story later on (though your followers might not appreciate the repeat content) or added to a Stories Highlight and pinned to your profile.
The feature is a great way for people to hold onto their disappearing videos and keep them as a highlight reel for followers. Whether that means featuring Stories Highlights of the different cities you've visited or keeping cute reels of each of your kids' silliest moments, it's a good way to make memories on Instagram a little more accessible, organized, and permanent than they were before.
Another benefit to this, of course, is that it's pretty non-intrusive for Instagram users who like to keep their features simple: the new addition doesn't add another row of Stories to Instagram's main feed, nor does it send push notifications to followers when users add to their Stories Highlights. It simply allows users to show off a few noteworthy videos at the top of their profile.
So far, feedback from users online has been pretty positive. "Very excited about this next Instagram update," one Twitter user and illustrator, Alex Cas, tweeted on Tuesday. "A lot of room here for episodic story content or even organized portfolio reels."
I'm inclined to agree. Even as someone who doesn't update their Instagram Story very often, I can definitely see the use of Stories Highlights, and I'm excited to see fitness bloggers use it to share new routines, travel photographers create city-specific video guides, chefs share quick recipes, and parents (of babies — and cats and dogs, of course) put together funny collections. The opportunities are actually pretty limitless and they let anyone with a smartphone turn into an amateur video editor and creator.
So here's to sharing — and, at long last, saving — all of your favorite videos, starting today. Have fun with it.
Check out Romper's new video series, Romper's Doula Diaries:
Watch full episodes of Romper's Doula Diaries on Facebook Watch.