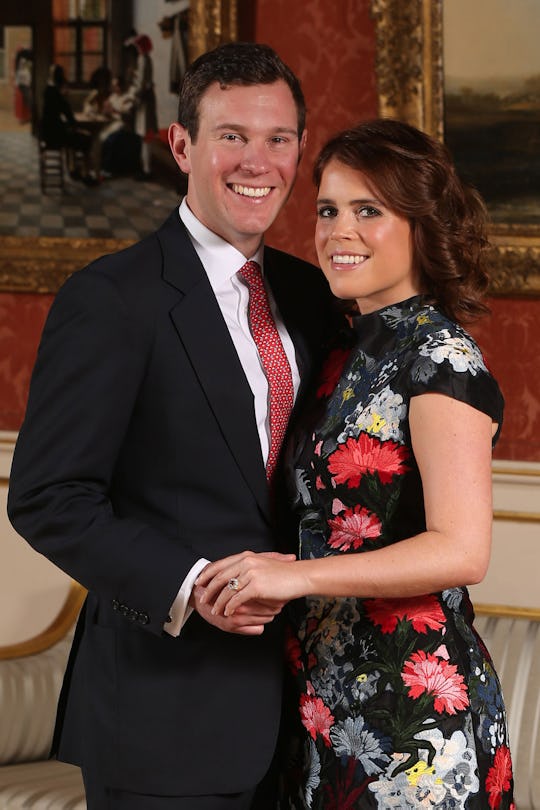 WPA Pool/Getty Images Entertainment/Getty Images
Set Your Alarm Clocks For Oct.12, Because You Can Watch Princess Eugenie's Royal Wedding On TV
On Oct. 12, the world will take its second trip down the aisle — this year! — of St. George's Chapel at Windsor Castle for a very royal wedding. This one will feature another of the queen's grandchildren and promises to be just as fun and steeped in meaning as the last. With the royal nuptials just days away, here is everything you need to know about how to watch Princess Eugenie's wedding here in the United States.
The princess will wed her longtime boyfriend, Jack Brooksbank at 11 a.m. BST, which means stocking up on strong coffee for those of us stateside. The festivities get under way at 4:25 a.m. ET/PT and TLC announced in a press release that it is the only channel carrying the event here in the United States. If that's simply too early for you to enjoy the wedding, TLC is being kind enough to air an encore presentation at 7:25 a.m. ET/PT. Following the live broadcast, viewers will also be able to watch on-demand via the TLC GO app.
Eamonn Holmes and Ruth Langsford from ITV's This Morning will be hosting the broadcast, according to TLC, which will include arrivals of the guests, the wedding ceremony, and the couple's carriage procession through the streets of Windsor. What viewers won't be able to watch are the afternoon reception being hosted by the queen at Windsor Castle, and an intimate evening reception at Princess Eugenie's family home, according to Town & Country.
A fun, festival-like party is also planned for Saturday, according to The Times. For that bit of celebration, the couple called upon Peregrine Armstrong-Jones, a celebrity party planner who put together an elaborate wedding reception for David and Victoria Beckham in 1999, the paper reported.
Of all the royal grandchildren, Princess Eugenie is perhaps the one best known as a socialite. A 2016 profile in Harper's Bazaar chronicled a day in her life, including the hours spent at her job as a director at the art gallery, Hauser and Wirth. Her relationship with art began when she was young, she told Harper's Bazaar, and though she knew she "wouldn't be a painter," she said she feels lucky to have found a career that allows her to channel her passion.
That practiced eye and exposure to style promise to play into her wedding and have had fans wondering since the engagement announcement how they're going to be reflected in her dress. That's one detail she had no problem choosing, though she isn't giving up any information about it.
"I'm not telling anyone who is making it, but I can say it is a British-based designer. [The dress] is the one thing that I was really decisive about. As soon as we announced the wedding, I knew the designer, and the look, straight away. I never thought I'd be the one who knew exactly what I like, but I've been pretty on top of it," she recently told Vogue.
The world will all have the chance to see it soon enough. And to get into the party spirit, start watching TLC's digital platforms the week of the wedding. According to Variety, the channel promises social videos, quizzes about royal weddings, and even DIY watch party ideas. Tea and crumpets, that's all you need. And maybe — well, definitely — that strong coffee.