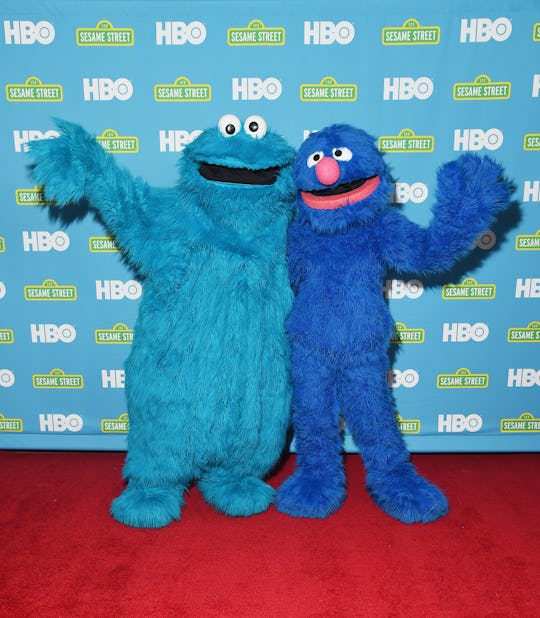 Michael Loccisano/Getty Images Entertainment/Getty Images
Where To Watch 'Sesame Street' If Trump's Budget Passes
President Donald Trump's budget blueprint has proposed cuts on almost all government agencies, but it's been particularly bad for the Corporation for Public Broadcasting: according to Politico, Trump plans to eliminate all federal funding for publicly-funding company, potentially putting an end to NPR, PBS and their affiliates. For those of us who have PBS-loving children — or who were PBS-loving kids ourselves — that also means a potential void of quality children's television. Wondering where to watch Sesame Street if Trump's budget passes? The good news is that the beloved show won't be gone for good. But the bad news? You'll probably have to pay to access it.
Trump is certainly not the only politician to take aim at PBS. In fact, according to The Washington Post, the Corporation for Public Broadcasting has been under attack almost as long as it's been in existence. in 2012, Republican presidential nominee Mitt Romney vowed to cut funding to the CPB during a televised debate, which was actually moderated by PBS anchor Jim Lehrer, and in the '90s, Newt Gingrich tried to defund public broadcasting while serving as House Speaker. President George W. Bush also gave it a try (a few times), as did President Ronald Reagan and President Richard Nixon during their terms as well.
The argument against funding the CPB, according to Office of Management and Budget Director Mick Mulvaney? It's apparently a money-saving matter. According to Politico, in an interview on MSNBC's Morning Joe Thursday, Mulvaney said,
When you start looking at places that we reduce spending, one of the questions we asked was can we really continue to ask a coal miner in West Virginia or a single mom in Detroit to pay for these programs? The answer was no. We can ask them to pay for defense, and we will, but we can't ask them to continue to pay for the Corporation for Public Broadcasting.
But even if you agree with Mulvaney's assessment, it's unlikely that the move to end CPB funding would actually help a whole lot — according to Politico, the $485 million saved only accounts for "about 0.0137 percent of total federal spending." And according to The Washington Post, federal funding still only makes up about 15 percent of PBS' actual budget, with most of the contributions from taxpayers coming in the form of private donations. That means that while PBS and NPR might be losing a chunk of their budgets under Trump, it doesn't necessarily mean that they will be over. What it will mean though, is that access to both entities will likely end up being restricted due to affordability, especially in rural communities or in states like Alaska, where government funding for public broadcasting is relied upon to maintain infrastructure.
What PBS fans may not realize though, is that Sesame Street hasn't been PBS-exclusive for a while now. In fact, the show already had to ink a deal to preserve itself financially even before Trump decided to gut public broadcasting. According to The Hollywood Reporter, Sesame Workshop inked a five-season deal with HBO in 2015, after posting an $11 million loss in 2014. And in a statement Thursday, Sesame Workshop offered its support of PBS and public broadcasting, while noting that it doesn't actually receive any direct funding from either CPB or PBS, and as a result, won't necessarily be affected in the same way.
That means that, while PBS has been able to run re-runs, new episodes of Sesame Street have actually been running on HBO — and no doubt will continue to do so regardless of the outcome of the budget. In other words, even if PBS didn't exist, parents could find Sesame Street on TV or on HBO GO if they have a subscription, or they could alternatively purchase a streaming-only subscription to HBO Now for $14.99 a month.
But while that might not be a big deal for all parents, for those who can't afford the added cost of cable channels or a monthly streaming service, the loss of PBS also means the loss of a quality children's television program. And even for those who can afford it? Trump's budget still means that paying $485 million to provide access to public radio and television for all Americans wasn't enough of a priority as a $54 billion increase in military spending and $2.6 billion towards the creation of a border wall, according to USA Today.
In a statement responding to Trump's budget announcement, PBS President and CEO Paula Kerger outlined the relatively low cost of public broadcasting overall — $1.35 per citizen per year — compared to the many benefits. According to Deadline, Kerger noted that public broadcasting offers increased "school readiness for kids 2-8, support for teachers and homeschoolers, lifelong learning, public safety communications and civil discourse." Kerger also reiterated the "strong support" for PBS "among Republican and Democratic voters, in rural and urban areas across every region of the country," urging Congress to take it into consideration as it votes on the measure.
If you're a Sesame Street fan who already has HBO (or if you don't mind getting it), then losing PBS might seem like a non-issue. But for all the families who rely on PBS to have access to children's shows like Sesame Street, the funding cut is likely just one more way that Trump's budget will affect them.