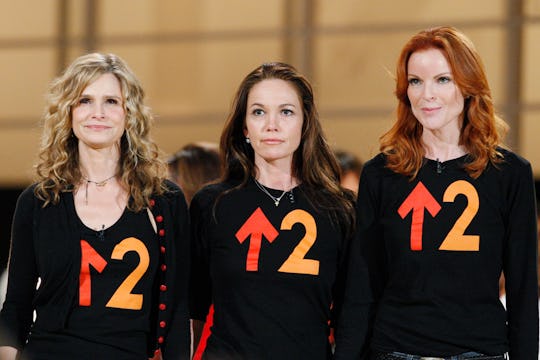 Handout/Getty Images Entertainment/Getty Images
Dozens Of Celebs Will Come Together For Stand Up To Cancer This Friday — Here's How To Watch
If you haven't already, you might want to mark your calendars because the star-studded fundraiser Stand Up to Cancer will air later this week. And with a long list of celebs coming together to raise awareness for an incredible cause, you may be wondering how to watch the Stand Up to Cancer television event, which is back this year with more star power than ever.
This biennial event funds urgently needed research and new cancer treatments, with the help of hundreds of Hollywood celebs who donate their time and efforts to raise money, according to Stand Up to Cancer. Some of this year's highlights include performances and appearances from Stevie Wonder, Little Big Town, Keith Urban, Sofia Vegara, Jennifer Garner, Traci Ellis Ross, Matthew McConaughey, and more.
This year, Stand Up to Cancer is celebrating its 10th anniversary. Since then, the group has raised over $480 million dollars for groundbreaking research. And more importantly, their researchers have developed five FDA-approved cancer treatments that are being used on patients today.
Bradley Cooper will be back as the show's co-executive producer and told CBS News that he's looking forward to sharing the inspiring stories of cancer survivors with viewers. "I am proud to return as Co-Executive Producer to highlight the 10 years of impact Stand Up To Cancer has made in cancer research," Cooper told the news outlet.
So how do you watch it this year? Pretty much anywhere, really. But one way to watch it, according to CBS News, is to tune into the telecast — which will air live on Friday, Sept. 7, at 8 p.m. EST — on TV via CBS as well as its streaming service CBS All Access, which you can subscribe to free for one week.
If don't have access to CBS, don't fret. According to a press release for the telecast, you can also watch it on more than 50 other participating outlets including:
ABC
FOX
NBC
AT&T AUDIENCE Network
Bloomberg TV
Bravo
Discovery Life
E! Entertainment
EPIX
Escape
ESPNEWS
FM
Freeform
FS2
FXM
FYI
HBO and HBO Latino
ION Television
Laff
Logo
MLB Network
MTV2
Nat Geo WILD
SHOWTIME
Smithsonian Channel
STARZ, STARZ ENCORE, and STARZ ENCORE ESPAÑOL
TNT
WGN America
As noted in the press release for the fundraiser, all these channels have donated "one hour of simultaneous commercial-free primetime for the telecast." You can also stream the telecast on Hulu.
It's really an event you won't want to miss. In addition to the celebs mentioned previously, according to People, most of the Modern Family cast will be in attendance supporting actor Jesse Tyler Ferguson who publicly talked about having cancer removed from his face a few years ago.
As for the public, Stand Up to Cancer was recently responsible for funding a clinical drug trial that helped a Baltimore man put his pancreatic cancer into remission, according to NBC News affiliate WBAL-TV.
Given the crucial awareness it provides, the hype for the upcoming Stand Up to Cancer event has reached a fever pitch, with more and more celebs showing their support on Twitter.
In conjunction with the telecast, over 130 iconic landmarks across the country will be lit up in a combination of Stand Up for Cancer's signature colors: orange, red, yellow, gray or white, according to The Philadelphia Tribune. As the publication reported, this colorful tribute will include:
Philadelphia's One Liberty Place
The New York Stock Exchange
Wrigley Building in Chicago
Niagara Falls
Peace Bridge connecting Buffalo and Fort Erie, Ontario
Helmsley Building in New York City
Capital Wheel outside Washington, D.C.
According to the International Agency on Research for Cancer, cancer is among the leading causes of death worldwide, with the number of new cancer cases per year expected to rise to 23.6 million by 2030. So, this funding for research is greatly needed. And Friday's telecast will undoubtedly help add resources and awareness to this priceless work.