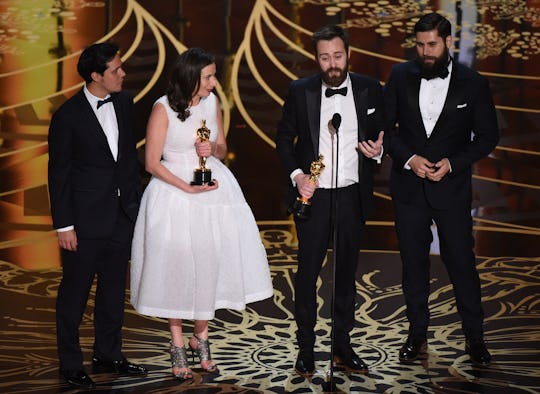 MARK RALSTON/AFP/Getty Images
How To Watch 'Stutterer,' Best Live Action Short Oscar Winner In 2016
If there's one good reason to watch the Oscars, it's to remind yourself of all the films you didn't get to see over the last year. Usually, that means the documentaries and the foreign films (unless you are a better person than I am, I suppose). So how can you watch Stutterer, the Best Live Action Short Oscar winner? In the past, it was really difficult to find the short films (or anything other than the big releases in theaters), but thanks to the Internet, getting your hands on these Oscar winners is now super easy. As long as you have a credit card to put them on. Right now, you can purchase all of the live action shorts as a package for $19.99, which is sort of a deal since you get the winner, Stutterer, along with all the nominees Ave Maria, Shok, Alles Wird Gut, Day One, Bear Story, Prologue, and World of Tomorrow.
Stutterer has cleaned up this year since its release. Winning almost every award its been nominated for both in North America and abroad. Director Benjamin Cleary was even nominated for Best Irish Young Director of The Year, and critics just cannot get enough of this film, so it's probably worth hopping on Amazon for, right?
Right.
The story line is simple enough: the film is about a man with a stutter (obviously) is preparing to meet a woman with whom he's only ever interacted with online. No spoilers. In his acceptance speech, Cleary thanked all of the people involved with the film, which was his first. He noted that it's tough to make your first film because you have to convince all of your friends and peoples to dive into the challenge with you. Making films is not easy (or cheap). The Irish Film Board tweeted after the win that Cleary's win represented "to the next generation of Irish film!" That's almost more of a compliment than an invitation to the Academy. OK, maybe not, but it's still really nice. It also looks like Cleary and crew are just nice people. Even his cousin was watching:
If all the awards and the romantic sounding plot line haven't piqued your interest, the community surrounding the film should be reason enough to purchase the short. Add a little variety to your video library.