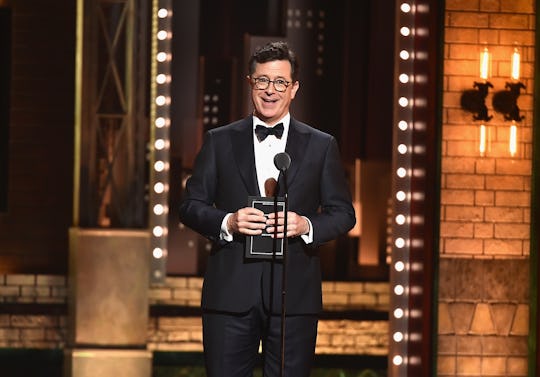 Theo Wargo/Getty Images Entertainment/Getty Images
How To Watch The 2017 Emmy Nominations
Some people love autumn, with all the colorful trees and pumpkin spice lattes. Some prefer spring, with its budding flowers and young love. But if you love television, you're probably getting pumped for a different season: Emmy season. And if that's the case, then you're probably starting to wonder how to watch the 2017 Emmy nominations, which will be announced on Thursday, July 13, at 11:30 a.m. ET. If the nomination announcement is just as exciting for you as the award ceremony itself (which isn't until Sept. 17), Emmys.com will be streaming it live on July 13. Anna Chlumsky and Shemar Moore, of Veep and Criminal Minds fame respectively, will be presenting the nominations.
Sometimes, the Emmys might seem like something of a foregone conclusion, with certain shows or actors consistently dominating their categories. For example, Julia Louis-Dreyfus has won Outstanding Lead Actress in a Comedy Series for Veep for every single year the show has been on. But don't write this year's Emmys off just yet — it's bound to be an interesting one.
First, a big shake-up this year will be that, for the first time since it started airing, Game of Thrones is not up for nomination. With the series' new season premiering July 16, they've missed the cutoff to be eligible for this year's Emmys. That frees up a lot of categories usually led by Game of Thrones: not just Outstanding Drama Series, but also the Outstanding Supporting Actor and Actress categories, as well as Outstanding Writing and Directing. Game of Thrones is one of the world's most popular TV shows currently airing. With it not getting nominated this year, that leaves room for a lot of other dramas to get the recognition they deserve without Game of Thrones hogging the spotlight.
Second of all, Stephen Colbert will be hosting it on his home network, CBS. Colbert has always been one of late-night TV's greatest comedians, and he's no stranger to the Emmys, having won a total of nine for his work on The Daily Show and The Colbert Report. Colbert's recent ratings surge has pretty much cemented his place in late night television, so he's bound to deliver a great, hilarious awards ceremony. The Emmys has seen a ratings slump over the last few years, but hopefully a great host and exciting nomination possibilities will make this year one worth tuning in for.
The 69th Primetime Emmy Award Nominations will be streamed live on Emmys.com on Thursday, June 13, at 11:30 a.m. ET. You won't want to miss it!