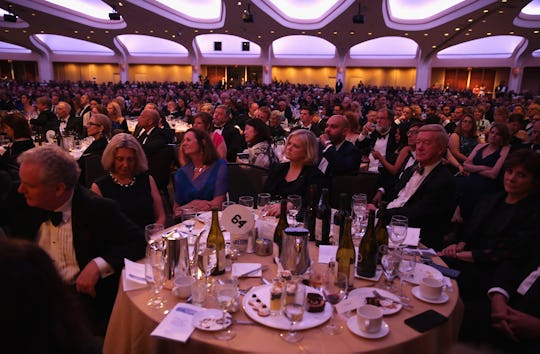 Tasos Katopodis/Getty Images Entertainment/Getty Images
How To Watch The 2018 White House Correspondents' Dinner, Because It's Gonna Be Good
The White House Correspondents' Dinner is a time honored tradition that affords Washington the opportunity to celebrate the First Amendment and the freedom of the press. This year's dinner will be the first in decades without the president present, so it could be quite the show. Here's how to watch the 2018 White House Correspondents' Dinner, because you won't want to miss it.
While the dinner was first created as a means of celebrating prestigious journalists from around the U.S., it has since morphed into a sort of high profile journalistic awards show, annually attracting big Hollywood names, political figures, and offering up a famous stand-up comedy routine. Deadline reported that this year's host and star comedian is Michelle Wolf Hasan, who you may recognize from her role as a correspondent on The Daily Show with Trevor Noah. The dinner will be held on Saturday, and begins at 6:30 p.m. PST or 9:30 p.m. EST.
There are a couple of different ways to make sure that you are able to see the White House Correspondents' Dinner this year. C-SPAN will broadcast the event live on its channel; check your local listings to see which channel that is for you. If you can't get in front of a TV set in time, don't fret. C-SPAN is also set to live-stream all 90 minutes of the dinner on its YouTube page, according to The Wrap. You can catch the show either way.
Margaret Talev, president of the White House Correspondents' Association, first announced that Wolf would be hosting and explained to the media why she was their top choice as Deadline reported:
Our dinner honors the First Amendment and strong, independent journalism. Her embrace of these values and her truth-to-power style make her a great friend to the WHCA. Her Pennsylvania roots, stints on Wall Street and in science and self-made, feminist edge make her the right voice now.
Wolf will be the fifth female host in the dinner's history.
Along with Wolf's comedy monologue, viewers can also expect to see journalism awards and scholarships being presented by big names in the industry. Last year, icons Bob Woodward and Carl Bernstein presented scholarships to deserving journalism students, as well as journalism awards to a few particularly successful political reporters. Greg Jaffe of The Washington Post, Edward Isaac-Dovere of Politico, and David Fahrenthold of The Washington Post were among the award recipients. This year's award winners have yet to be announced.
One particularly notable person will not be on the guest list this year: President Trump. He will instead be hosting an "election-style rally" the day of the dinner in Michigan, according to The Hill. Last year, the president urged his employees to boycott the event, but it seems that he has allowed them to make up their own minds about attending this time around. Although the president did not provide an explanation for his absence, one can only imagine that it is at least somewhat due to his testy relationship with the media and blatant disdain for the freedom of the press.
Former White House Press Secretary Sean Spicer told Variety that he saw no reason for Trump to attend this year:
I don't see any point. What would be accomplished by going? The dinner has turned into a night of Hollywood celebrities and bashing of Republicans. I don't think it is time well spent, and I don't think the optics are good.
Trump's absence last year marked the first time in 36 years that the president failed to come to the dinner, according to The Daily Beast, but it isn't the first time that a president has sat out of the event. The first White House Correspondents' Dinner was held in 1921, according to History.com, but the first presidential attendance wasn't until 1924 when President Calvin Coolidge made an appearance.
The guest list for the dinner has only gotten longer since. Dinners in recent years have attracted upwards of 3,000 people to Washington D.C., including journalists, politicians, icons, and celebrities alike. This year's dinner will surely offer up an impressive guest list and a lot of laughs.