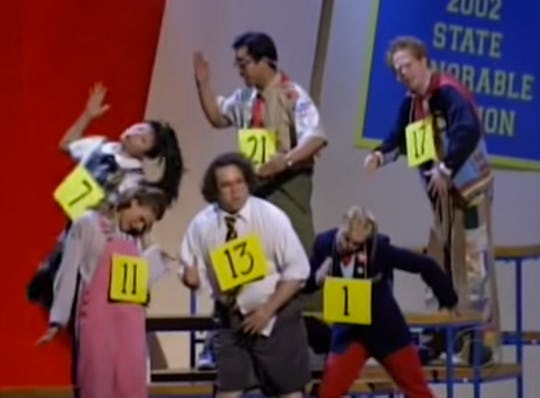 YouTube
How To Watch 'The 25th Annual Putnam County Spelling Bee' When Scripps Isn't Enough
If, thanks to the Scripps National Spelling Bee, you've discovered that you love watching awkward preteens spell words you've never heard before, I have excellent news for you. A hilarious musical called The 25th Annual Putnam County Spelling Bee exists, and it might just become your favorite thing. While it's not easy to watch The 25th Annual Putnam County Spelling Bee online, you've got a few options for how to fall into its delightful world.
Spelling Bee, by William Finn and Rachel Sheinkin, tells the story of six young contestants (played by adults) competing to win a local spelling contest, with the actors always joined by a few audience members pulled onstage to fill out the competition. All the kids have their own reasons for being at the bee, ranging from the pushing of over-involved parents to the loneliness of having no friends other than a dictionary, and the competition ends up being about a lot more than spelling.
The show has improvisation, songs about the hazards of puberty (if you're a hormonal boy, you'd better hope you don't have to spell the word "tittup"), and a few really heartbreaking moments. I fell in love with it when I saw it in its pre-Broadway run, and subsequently annoyed my dad by insisting we listen to the soundtrack on loop during the entirety of our cross-country college tour.
For a taste, watch its performance at the 2005 Tony Awards (where it was nominated for six awards and brought home two) below:
So yeah, it's totally charming. (And did you catch a pre-Modern Family Jesse Tyler Ferguson as speller Leaf Coneybear, who makes his own clothes and probably has ADHD?)
I know, I know, you want more! Well, a few versions of the full show exist on YouTube, but they're of dubious legality and dubious quality. Your best bet is to buy the soundtrack on iTunes or Amazon, or stream it on Spotify, and try to fill in the blanks, even though that means you miss out on a lot of the script's wit.
But depending on where you live, you might get lucky. Plenty of regional theaters do the show, so keep your eyes peeled. If you're in or around New York City, for example, The Astoria Performing Arts Center has a charming production of it running through Memorial Day Weekend, which is absolutely worth checking out. As its director, Dev Bondarin, told Romper in an email, "I love this show because it so effectively captures this important, high stakes moment in a young person's life with humor, intelligence, and care."
25th Annual Putnam County Spelling Bee may not be easy to find, but it's worth it. After you watch it, you'll never look at all those Scripps kids in the same way again.