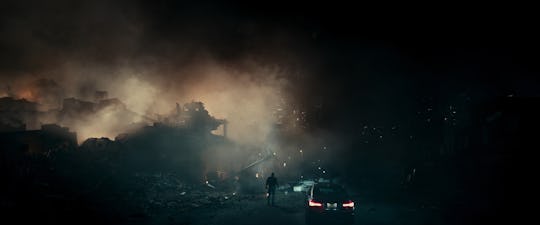 Netflix
Netflix Just Made History With This Release Of 'The Cloverfield Paradox'
Netflix changed the game (yet again) on Super Bowl Sunday, airing a teaser trailer for the latest sci-fi thriller from the Cloverfield franchise as a Super Bowl commercial, and then dropping the film immediately after the game. Viewers may be wondering how to watch The Cloverfield Paradox, but you can stream it on Netflix right after the Super Bowl ends.
Cloverfield and 10 Cloverfield Lane, the first two installments in the understated sci-fi franchise were both huge box office successes for Paramount, the studio that initially released them. But the third film, erstwhile known as God Particle, veered away from the established recipe for success. Instead of relying on subtlety, like the first two, it got a bigger budget ($40 million; the first two were each made for under $25 million), a big-name director (J.J. Abrams), and an all-star cast of up-and-coming film darlings (David Oyelowo, Ziyi Zhang, Daniel Bruhl, Elizabeth Debicki, and Gugu Mbatha-Raw).
The finished product reportedly needed a lot of work and some speculated that Abrams was too wrapped up in the Star Wars franchise to focus on The Cloverfield Paradox. A source told The Hollywood Reporter that Paramount chairman Jim Gianopulos "sat down and looked at what is theatrical, what is not in this day and age," and ultimately decided to sell off the third film to Netflix.
Ever making lemons out of lemonade, Netflix did absolutely zero marketing for the film — that is, up until the Super Bowl. Many of the year's most anticipated movies typically air trailers during the Super Bowl and this year was no different. We saw teasers for Solo: A Star Wars Story, Avengers: Infinity War, Jurassic World: Fallen Kingdom, A Quiet Place, Red Sparrow, Skyscraper, and Mission: Impossible — Fallout. But we have to wait for all those movies to come out. The fact that Netflix threw in an exciting trailer from a popular franchise that fans can literally go watch right after the game is a huge deal. Filmmakers like Ava Duvernay, who happens to be close with the film's star Oyelowo after working with him on Selma, were super impressed and took to Twitter to underscore the sheer genius of it.
Although I, personally, don't understand how anyone can go on living after receiving Ava Duvernay's stamp of approval, Vanity Fair points out that some folks on Twitter feel disappointed that The Cloverfield Paradox didn't get more hype leading up to its release. Some fans worry that this is Netflix's weak attempt to dump the movie, although I guess it's possible those fans didn't hear about a little surprise overnight release called the Beyoncé self-titled visual album, and its subsequent, internet-breaking success.
This is obviously the first time a film has ever been promoted and released in this way, so we'll have to wait and see how successful the stunt is. (Keep in mind that Netflix notoriously keeps its ratings under wraps.) But given its immediacy, the surprise reveal, and the massive marketing risk at arguably the biggest public-facing advertising event of the year, The Cloverfield Paradox has all the makings of a hit with millennial audiences.
The film's Netflix description reads:
"In the near future, a group of international astronauts on a space station are working to solve a massive energy crisis on Earth. The experimental technology aboard the station has an unexpected result, leaving the team isolated and fighting for their survival."
Seems like a perfect alternative (or antidote, depending on your preferences) to watching Super Bowl 52's followup, This Is Us.
Check out Romper's new video series, Romper's Doula Diaries:
Watch full episodes of Romper's Doula Diaries on Facebook Watch.