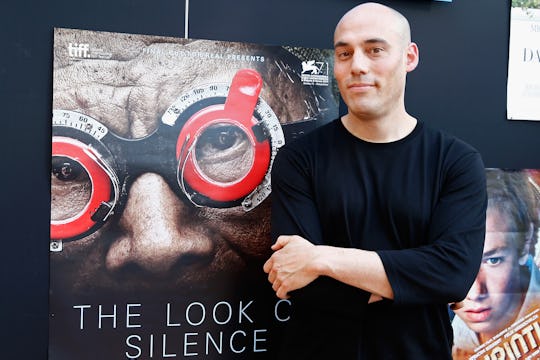 Andreas Rentz/Getty Images Entertainment/Getty Images
How To Watch 'The Look of Silence' Before The Oscars, Because It's A Definite Must-See
It's not often that they make sequels to documentaries, but The Look of Silence is just that. Also directed by Jason Oppenheimer, the film follows up on The Act of Killing, which was released in 2012. The follow up, like it's precursor, is nominated for best Documentary Feature Film at the Oscars. It can be tough to track down some of the smaller films up for an award, so how can you watch The Look Of Silence to decide if it should win for yourself? You're going to have to pony up if you want to watch the film, though, because it's not on Netflix yet.
You can purchase the film from Amazon, iTunes, Google Play, or even YouTube for $3.99. That's sort of a deal for a critically acclaimed documentary that has actually affected change in Indonesia, the country where it's set. Oppenheimer really set out to follow up on The Act of Killing and just in case you're wary of sequels, be prepared for greatness. Vanity Fair wrote that The Look of Silence is "no tacked-on epilogue or a cash-grab cobbled together from leftover footage." But while The Act of Killing focused on the perpetrators of the 1960s state sanctioned genocide in Indonesia, this second installment focuses on the survivors.
According to The Atlantic, the documentary follows Adi Rakun, whose brother was among those murdered by paramilitary groups two years before Adi was born. Adi confronts his brother's killers face-to-face throughout the course of the film. Lenika Crutz wrote that the the film "looks at what it's like to live surrounded by the people who murdered your family and how dangerous it can be to seek truth and healing in a country with a legacy of lying about and defending atrocities."
That's more than true. Rakun released an official statement on the experience of making the film on Indiewire. He wrote:
I knew the risks I might face, and I thought about them deeply. I took these risks not because I am brave, but because I have been living in fear for too long. I do not want my children or, one day, my grandchildren to inherit this fear from me and my family.
He continued saying that he was glad that, through the film, the victims of genocide were "no longer silent." Rakun currently works and lives in Indonesia and it's anyone's guess whether he'll be accompanying Oppenheimer to the Academy Awards on Sunday, though he has walked the red carpet with the director in the past.
The Look of Silence is nominated for Best Documentary Feature along with Amy, Cartel Land, What Happened, Miss Simone, and Winter on Fire: Ukraine's Fight For Freedom. Even if Oppenheimer and Rakun don't win the award, they are certainly in good company.