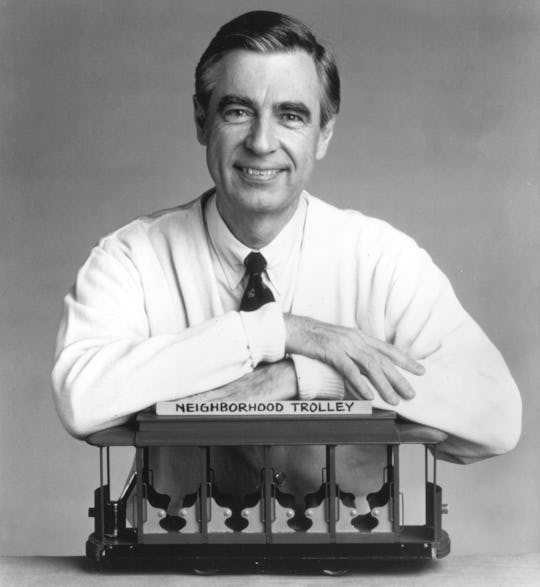 Getty Images/Getty Images Entertainment/Getty Images
A Free 'Mister Rogers' Marathon Is On The Way
An 18-day Mister Rogers' Neighborhood marathon sounds too good to be true. But what if — even better — it were totally free to watch? Invite all of your neighbors over: Here's how to watch the Mister Rogers' Neighborhood marathon, because your kids won't want to miss it.
The video game streaming site Twitch is hosting the event online. The company even has a designated URL devoted to the Mister Rogers' marathon stream: Twitch.tv/misterrogers. For the full 18 days, the show will play chronologically, not skipping an episode. It's a pretty rare occurrence; Of the 886 episodes, some have only been aired once.
It'll all start on May 15 at 12 p.m. Pacific Time. Before the first episode airs, though, Twitch will stream Fred Rogers' Senate testimony in which he advocated for PBS funding back in 1969. "I feel," Rogers testified at the time, "that if we in public television can only make it clear that feelings are mentionable and manageable, we will have done a great service for mental health." By calmly sharing his vision, and the needs he felt that his programming was meeting within the community, Rogers acquired $20 million in funding for PBS — an amount that was instrumental in shaping children's programming for subsequent generations of kids.
This message is something that Twitch hopes to build upon. As the marathon plays out, Twitch will also give time for personal reflections on the value of public programming, courtesy of its partners. Twitch is also already promoting a funding campaign, encouraging donations to local PBS stations, and will continue to do so through out the marathon. There's even a contest to win a Twitch and Mister Rogers purple cardigan, generating more buzz for the event.
But why Twitch? A gaming service streaming kids programming isn't necessarily an obvious match, but the site's been working towards events of this kind for a little while. In fact, Twitch streamed all 23 seasons of Power Rangers for 17 free days back in March, so they've got some experience with this sort of thing.
Though Mister Rogers represents older versions of entertainment and Twitch represents the new, there's some vital overlap. "In a lot of ways, Mister Rogers may have been the first 'streamer' that many of us ever watched," Twitch's blog notes. "He'd always speak directly to his viewers in a welcoming, familiar way, and when you entered his neighborhood you immediately felt like a part of the community."
This timely marathon premieres while public funding for arts and educational programming is being threatened by the federal government. Talk about cutting the already-scant help that PBS gets is cause for many to stand up and fight for their programs — Twitch included. Starting May 15, you and yours can join in, too. Just head on over to the Mister Rogers Twitch stream and start watching!