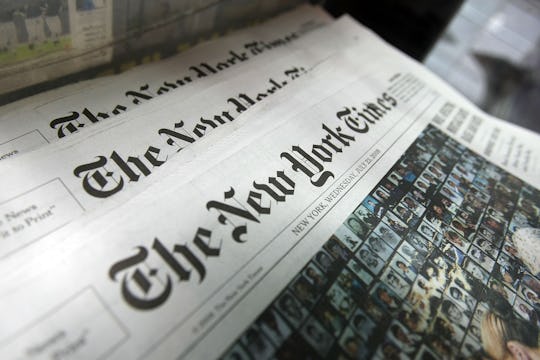 Mario Tama/Getty Images News/Getty Images
How To Watch The 'New York Times' Truth Ad
The truth can be hard to swallow, but this past year has shown us that there has never been a more important time to tell and seek out the truth. The New York Times knows this — after being targeted by President Donald Trump as "fake news" and being barred from an informal White House Press briefing in the past weeks — and the outlet's new ad highlights this glaring fact. It's definitely worth seeing, and figuring out how to watch The New York Times truth ad before it airs during the Academy Awards — and becomes the one thing that everyone won't be able to stop talking about — isn't all that difficult.
In the 30-second, poignant ad, the news outlet reiterates the importance of telling the truth and the public's right to be informed. This ad airs just days after The New York Times was reportedly barred from a White House press gaggle on Friday, according to The Washington Post. It also comes at an important moment in terms of media and the press: In the ad, varying audio from all sides of the political spectrum can be heard from different voices, all stating what the "truth is" — and ends in one very important message:
The truth is hard. The truth is hard to find. The truth is hard to know. The truth is more important now than ever.
Luckily, you don't have to wait until tonight's broadcast of the Academy Awards at 8:30 p.m. on ABC — or be glued to the television waiting for the ad to re-air again: The ad is up on YouTube, ready to be watched, rewatched, and shared whenever you wish. According to Ad Week, this commercial is only part of a much larger ad campaign with additional print, digital, and social ads tackling the subject of the truth.
President Donald Trump, unsurprisingly, isn't a fan. The president took to Twitter Sunday morning to share this thoughts about the new ad campaign.
The funny thing is, according to Ad Week — this isn't the first time that The New York Times has taken out an ad (contrary to what Trump tweeted), however it is the first time The New York Times has aired a commercial during the Academy Awards. Whether you agree with the ad or take side with Trump, the ad's message should not be disputed or ignored. In a year where alternative facts have practically become second nature, its important to remember that the truth is out there, and that people and organizations are fighting for it to be told.