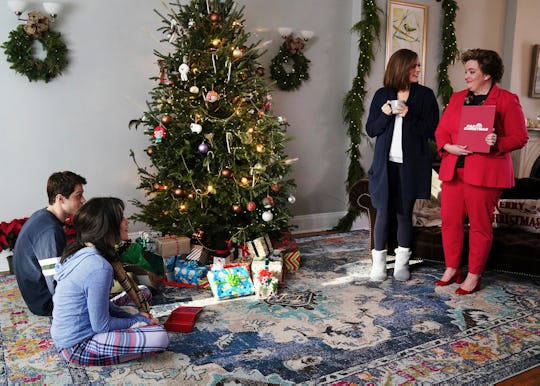 NBC
You Can Watch The 'Saturday Night Live' Best Of Christmas Special Very Soon
Yes, Christmas is still weeks away, but the folks over at Saturday Night Live know that the celebrations have already begun. For those not in the know, every year NBC puts out a compilation of the best holiday sketches from years past. Since the show's been on since the 1970s, that's a lot of amazing content. So without further ado, here's how to watch the Saturday Night Live Best of Christmas special this year.
Your first choice is the most obvious one: Watch it on NBC. Because this is a compilation of old clips, it's not apart of the regular live show that airs on Saturday nights (though you can still catch some new holiday sketches if you tune in then). The special first airs on Tues. Dec. 4 at 9p.m. ET, with a reprisal on Thurs. Dec. 13 at the same time. And if you've still got DVR, I'm so jealous of you, because you can tape the two-hour special and watch it whenever you want, like Christmas morning/afternoon after you finish opening presents.
For many of us, the go-to option is streaming. If you have a TV provider login, you shouldn't have any problem watching the special live through the NBC app or your web browser, a good option for those of you who are spending the holiday season at traveling or maybe with family members who don't bother with basic cable.
That being said, there are other ways to watch the Saturday Night Live Best Of Christmas special out there, but you're probably going to have to wait until after at least the first airing. Streaming services like Hulu, Amazon Prime, and iTunes will likely have the special available at a later date, though the latter two will probably require you to purchase it. Hey, no one ever said hilarity comes free!
So what exactly are you paying for? Like I said, there's a lot to choose from. SNL holiday sketches date back to its conception, and with more than 40 years on the air, with multiple sketches aired over a few episodes each year, there's a vast array. And among them are repeated favorites, like Jacob the Bar Mitzvah boy, Vanessa Mayer's character with a storied history who has appeared upwards of nine times. If you're already feeling nostalgic, the NBC site features a bunch of old holiday SNL clips to enjoy, ranging from the ever popular "Steve Martin's Christmas Wish" to a very special Christmas Debbie Downer sketch from 2005, which features a nod to the animated film How the Grinch Stole Christmas.
Whether you decide to watch the special live or save it for another day, this SNL offering is bound to be a holiday favorite in your household. And if you're favorite doesn't make it in, there's always next year.
This first-time mom wants to have a home birth, but is she ready? Watch how a doula supports a military mom who's determined to have a home birth in Episode One of Romper's Doula Diaries, Season Two, below. Visit Bustle Digital Group's YouTube page for the next three episodes, launching Mondays in December.