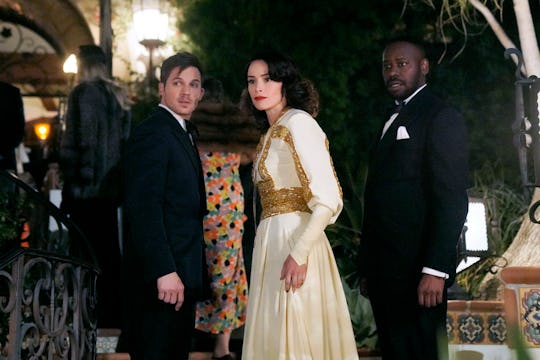 Paul Drinkwater/NBC
You Won't Want To Miss The 'Timeless' Movie Finale
#Clockblockers are in for a holiday treat this year. After months of campaigning, Timeless fans are getting a two-hour finale movie to wrap up Lucy, Wyatt, and Rufus' time traveling adventures. The finale is set to air a few days before Christmas, so if you're hoping to catch one last ride on the lifeboat, you should know how to watch the Timeless finale movie.
The Timeless finale will air on Thursday, Dec. 20 at 8 p.m. EST on NBC, so you can tune into your local NBC station to watch. If you are using your phone or mobile device, you can watch it through the free NBC mobile app, and cable subscribers can access NBC live with a login and password online. For those in need of a refresher before the finale, the first two seasons of Timeless are now available to stream on Hulu with a subscription.
Now that you know how to watch the Timeless finale, you'll probably want to know what to expect. According to a press release put out by the show's producers, the finale movie is going to be a thrilling adventure. "Timeless executive producers Eric Kripke, Shawn Ryan and Arika Lisanne Mittman are promising fans an epic, unforgettable thrill ride through the past, present and future, with a healthy dose of Christmas spirit," the producers revealed in a press release. "Spread across three centuries and two continents, the finale will test Lucy, Wyatt and the entire Time Team like never before as they try to #SaveRufus, preserve history and put a stop to Rittenhouse once and for all."
The existence of the Timeless finale movie is a testament to the series' loyal fans. When Season 2 ended last May, the fate of the show was still up in the air. The season ended on a cliffhanger, with one of the show's main characters, Rufus, being killed when the team traveled to the past. Fans were hopeful that Season 3 would continue to see Rufus saved by his time traveling team, but when NBC announced they were pulling the plug on the series in June, Timeless fans took to social media to let executives know they weren't ready to leave the story unfinished.
Naming themselves #Clockblockers, Timeless fans started the #SaveTimeless campaign and eventually commissioned a banner that read "You want to get Rufus back, or what? #SaveTimeless" to fly above San Diego Comic Con. The trending hashtags and banner made a difference, because in late July — after months of negotiations with Timeless producers — NBC announced they would release a two-hour finale movie.
While it wasn't the third season fans were hoping for, Timeless producer Eric Kripke tweeted that fans would get the closure they needed. "I know you wanted more seasons. But this 2 hour finale will let us end the story right & #SaveRufus," Kripke wrote in his tweet. "EVERY convo I had with @Sony & @nbc was about the fans. Giving them the ending they deserve. Cause they spoke so loudly. Thank you, #Clockblockers."
The Timeless fandom may be small, but it's definitely loud. Some are still holding onto hope that another network will pick the series up after the finale airs, and the writers and producers seem to be open to the idea of future episodes. In an interview with Collider, Kripke noted that he's not closing the door on the series just yet.
"Anything is possible — these are some scary times, and I think that show is a force of positivity, and inclusion and diversity, in a world that, frankly, desperately needs it," he told the outlet. "I'm really proud of the message of that show. I'm proud of its heart. And everyone else who works on it feels the same. I think we'd be happy to find a way to continue that story."
Some fans are hoping that the Timeless finale generates enough buzz to get another season, and as a #Clockblocker myself, I'm keeping my fingers crossed. For now, fans should feel proud of the fact that they earned one last ride on the lifeboat, and this time, they're going to bring Rufus back for sure.
The Timeless finale airs on Thursday, Dec. 20 at 8 p.m. ET on NBC.
This first-time mom wants to have a home birth, but is she ready? Watch how a doula supports a military mom who's determined to have a home birth in Episode One of Romper's Doula Diaries, Season Two, below. Visit Bustle Digital Group's YouTube page for the next three episodes, launching every Monday starting November 26.