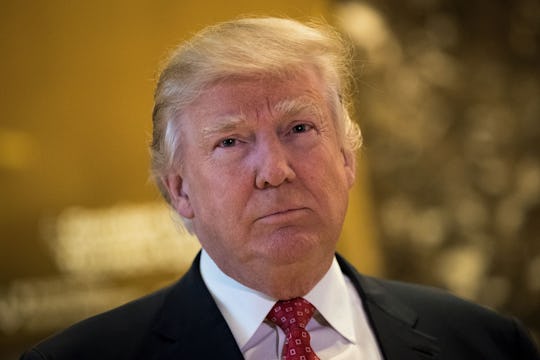 Drew Angerer/Getty Images News/Getty Images
How To Watch Trump's Press Conference
In just an hour, Donald Trump will hold his first press conference since he won the election in November. The first-of-its-kind presser for Trump should be nothing short of interesting. After all, there won't be a shortage of issues he'll have to address when he takes the podium at 11 a.m. Eastern Time at Trump Tower, located in Midtown Manhattan in New York City. While there isn't a formal agenda, the president-elect is expected to talk about plans to repeal and replace the Affordable Care Act, his appointment of his son-in-law Jared Kushner as a senior White House adviser, Trump's several conflicts of interests with his multi-billion dollar businesses, and yesterday's explosive allegations that Russia has "compromising information" on the president-elect, according to USA Today. So how can you watch Trump's press conference?
Most TV networks, like CBS and NBC, are expected to broadcast the event. It will also be livestreamed on CNN, YouTube, Re/Code, PBS, and CBSN. The Hill also will be hosting a live stream of the event here.
Trump scheduled his first press conference as president-elect for Dec. 15, but cancelled the event a few days beforehand. His last formal press conference was held in Florida on July 27, three days into the Democratic convention. (Coincidence? Obviously not.) During his hourlong appearance, the then-Republican nominee made a host of blatantly false statements about former Secretary of State Hillary Clinton's emails, health insurance premiums the 2015 terrorist attack in San Bernardino, and, now ironically, his ties with Russia, according to the Washington Post, which ran an annotated fact-checked version of the transcript. In fact, during the mid-summer conference, Trump even invited Russia to "find the 30,000 emails that are missing" from Clinton's servers. "I think you will probably be rewarded mightily by our press," he said then. Awkward.
Although this may be his first presser as president-elect, Trump is not one to keep his feelings private. His Twitter feed alone is a runaway diary of his uncontrolled and brazen thoughts. That makes Wednesday's press conference even more curious. How exactly will he handle himself? We'll have to wait and see.