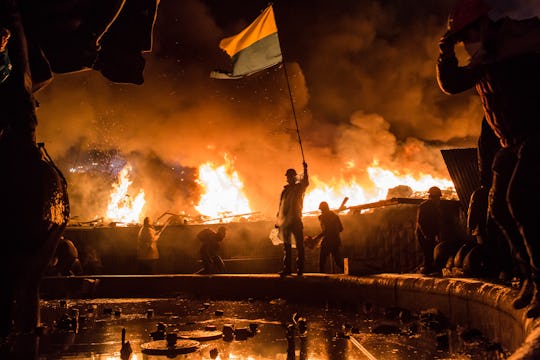 Brendan Hoffman/Getty Images News/Getty Images
How To Watch 'Winter On Fire' For The Oscars, Because It's One Amazing Film
The Academy Awards are next week, so if you're wondering how to watch Winter on Fire before then, here's some good news: the Best Feature Documentary nominee is easily available on Netflix. What's more, this isn't the only documentary nominee that's available online. The nominees Cartel Land and What Happened, Miss Simone? are also available on Netflix, while the nominees The Look of Silence and Amy are available on Amazon.
According to CBS News, this year's five nominees for Best Documentary are especially strong. The five were selected from a pool of 124, and they represent a "diverse mix of investigative journalism, history in the making, and profiles of musical artists," according to CBS. This certainly sounds like a must-watch bunch. Winter on Fire: Ukraine's Fight for Freedom, by Russian director Evgeny Afineevsky, chronicles the 2014 Ukrainian protests against Ukraine President Viktor Yanukovych, who subsequently fled to Russia. The protests, which took place in Kiev's Maidan Square, were widely reported at the time, and images from the protest were readily available at CNN and on social media, according to The New York Times.
The filmmaker's challenge, then, was how to present such a widely-publicized event in a new light. According to The Times, the documentary succeeded. "Mr. Afineevsky takes the viewer closer to the action than might have seemed possible," said Times reviewer A. O. Scott. "Rarely has a documentary achieved such immediacy."
The easy availability of Winter on Fire on Netflix points to a growing competition between streaming services to provide viewer access to Oscar nominees. This year, an amazing 17 Oscar-nominated films are available for streaming on Amazon, Netflix, and other services like Google Play and iTunes.
What's more, streaming services are now producing and distributing Oscar-nominated films, not just streaming them. According to The Washington Post, Netflix spent an unprecedented $6 billion this year on original content, and the media giant hopes the investment will pay off in the form of award nominations. And they were successful. Winter on Fire and What Happened, Miss Simone? were both distributed by Netflix.
Netflix wasn't entirely successful, though, in its Oscar dreams. According to Variety, Netflix was hoping that its drama Beasts of No Nation would receive an Oscar nod in the Best Supporting Actor category, but it came up short.
Fear not, though. Netflix is doing just fine for itself, and What Happened, Miss Simone? is considered a serious contender to win the Documentary category. And us viewers are all winners, because with 17 Oscar-nominated films available online, we have plenty of popcorn to eat between now and the Oscars.