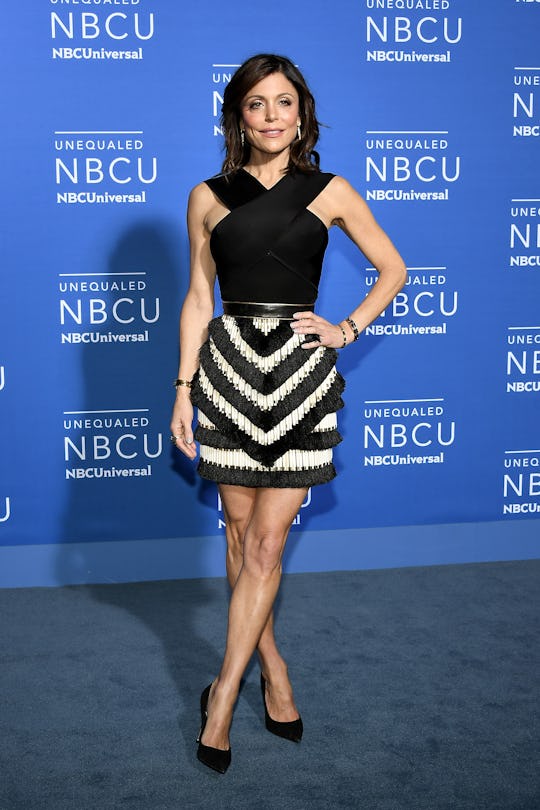 Dia Dipasupil/Getty Images Entertainment/Getty Images
Here's How To Win A *Free* Pair Of Bethenny Frankel's Jeans
If you're a Real Housewives Of New York fan, you're probably tuned into Bethenny Frankel's latest business venture: jeans. She recently announced on the show, while throwing a balls-to-the-walls launch party, that Skinnygirl Global will be rolling out a line of tops and pants come this fall. If you peep the Instagram account of Frankel or the Skinnygirl Brand, you can actually get a sneak peek of the spirit of the collection, and if you like what you see, you can even sign up to win a free pair of jeans from Skinnygirl Jeans, but you got to act fast.
There are multiple portals to snag a free pair of pantaloons from Frankel's new line, and I should tell you know that they all lead to the same page to sign up, but they take you on a different journey, so choose your own adventure. First you can go to Frankel's Instagram account and if you're lucky, get sucked into a series of Instagram stories that not only promote the brand, but offer a direct path to the signup page. You know the drill: swipe up, and it'll take you exactly where you want to go. The other benefit of getting sucked into Frankel's story-land is that this path will probs give you the best idea of what the collection actually looks like. You'll see everyday staples (jeans, jackets, sweaters), all with some sort of embellishment — some subtle, some not so much. Basically it seems like there's something for everyone who likes a little pizazz to what they rock day on an everyday basis.
Here's another, more direct way to get to that signup page: Hit up Frankel's or Skinnygirl Brand's Instagram account pages and in their profile section, you'll see a link to the Skinnygirl Jean's website. It'll take you Skinnygirl shop's home base where there's nothing more than an image of Frankel and some models rocking a few more causal looks from the line (denim pants, denim jackets, and comfy sweaters), and a line to submit your email to sign up. Go for the signup access, stay for the Instagram experience (aka see you in an hour when you've finally resurfaced from oogling the life of Bethenny Frankel).
And there's of course this link you can click on this direct link to the Skinnygirl Jean's shop site that won't distract you away from your mission: to get free stuff. Sure it's quick and easy, but not nearly as fun IMO.
And guys, if you want to try to win this freebie, you really do gotta act fast. The winner will be announced in less than a week, on Wednesday June 13, and we're not 100 percent sure when exactly the sign up period ends, so obvi, don't delay.
But are these jeans even worth it? Well, if you're reading this, then the answer is prob yes. But how worth it you ask? Everything from the Skinnygirl Brand is going to cost under $100, according to the Skinnygirl's global site. So even if the jeans are close to $100, it fits like a glove, and you rarely take them off (because you love them, but because it's too hard to), that's not a bad price point for a really good product.
Plus, Frankel appears to have gotten the thumbs up from her fellow Housewives cast members, as Frankel "assured fans that her RHONY ladies would absolutely be donning her Skinnygirl Jeans and that Sonja Morgan's already scooped up a couple of pairs," as noted in the same Skinnygirl Global article.
If there's one thing you know that these ladies are used to is high-quality, designer wear that they are probably literally paying an arm and a leg for. I mean, you don't get crowned a "Real Housewife" if you're not racking up an impressive credit card bill, amirite? Luckily, come September 10, they — and you — won't have to.