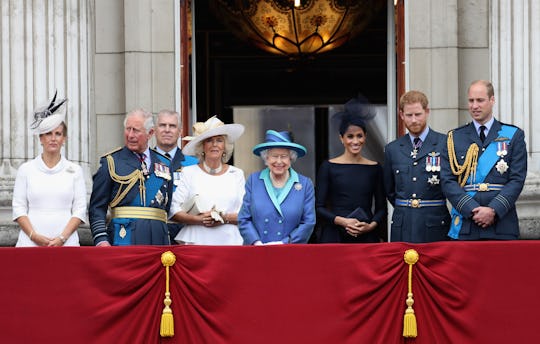 Chris Jackson/Getty Images Entertainment/Getty Images
'The Story Of The Royals' Offers An Exclusive Look Into The Palace
People all over the world are fascinated with the British Royal Family, but it's hard to know exactly what goes on behind the palace's carefully guarded doors. The Story of the Royals, a new two-part documentary, promises to give viewers an exclusive inside look into the lives of the most famous royals. But with all the sensational stories about their personal lives floating around, fans may want to know, how true is The Story of the Royals? From the looks of it, The Story of the Royals will be a pretty accurate look at the famous family.
As a collaborative effort from People and ABC, the documentary will highlight a series of personal accounts from people who have had one-on-one interactions with the family. The Story of the Royals is going to spotlight the narratives of people who have known the royal family for years, including some key figures who worked, socialized, and lived by their side. One account is from Lady Jane Rayne Lacey, reported People, who was the Maid of Honor at Queen Elizabeth's wedding to Prince Philip. "Our dresses were beautiful but very uncomfortable. And the Queen's train was very heavy, even with six girls carrying it," she told People. "Back at the palace, we had a wonderful tea. The Queen said she couldn't have asked for six better girls to have done the job."
Another person close to the family was Patrick Jephson who, as the former personal secretary to Princess Diana, has unique insight into her life and personality. People reported that in the documentary Jephson highlights what an impactful yet grounded person she really was. "She was both intimidating as a princess, as an amazingly statuesque figure, and yet fabulously warm and approachable and funny and quick," he said. "Even if she was really quite young and inexperienced and in many ways naïve, there was a freedom about her that was both uplifting and inspiring and sure as heck made you want to go out and slay dragons for her."
But it's not just the older royals taking the spotlight in The Story of the Royals. David Wiseman, the head of Armed Forces Programmes for the Royal Foundation of the Duke and Duchess of Cambridge and Prince Harry, is also featured in the documentary, People reported. In it, he discusses how comfortable Prince Harry is when he's with military veterans. "Prince Harry really becomes himself when he's around veterans. He can speak openly," he said. "He understands it's his duty to use that to have a positive impact — Meghan's incredibly passionate. They're an incredible match."
The documentary will also feature accounts from people close to Meghan Markle, who joined the royal family in May when she married Prince Harry. According to People, Suits creator Aaron Korsh will provide insight into her time on the show and her transition to Duchess of Sussex. Markle's long-time friend and wedding day makeup artist, Daniel Martin, will also be featured, along with her theater professor Dr. Harvey Young and others who were close to her before she became a royal. With all of Markle's family drama dominating the tabloid headlines these days, it will be nice to see some real perspective into who she is as a person.
Through the lens of palace insiders, the documentary promises to give viewers an insightful look into the Royals' lives, along with exclusive photos, video clips, and interviews. So if you're a Royalist, it should be refreshing to take a break from tabloid intrigues to hear the accounts of people close to the palace. The Story of the Royals will air as a two-night series event on August 22 and August 23, with each two-hour episode beginning at 9 p.m. ET on ABC.