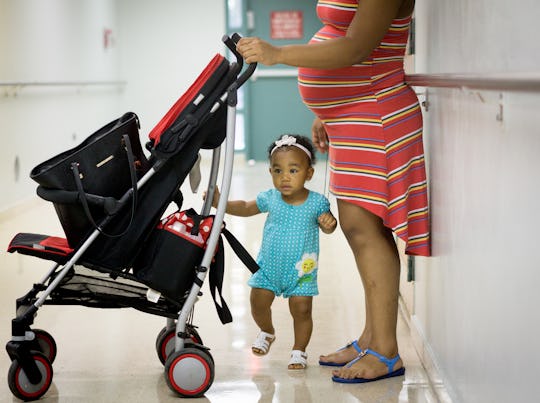 Angel Valentin/Getty Images News/Getty Images
"Trumpcare" Hurts Low-Income Moms
As the GOP attempts to move forward with its plan to replace the Affordable Care Act, also known as Obamacare, millions of Americans could essentially be left behind, including one of the nation's most vulnerable populations: low-income moms. By phasing out the Medicaid expansion and defunding Planned Parenthood, for example, "Trumpcare" will likely only hurt low-income moms rather than help them moving forward. Without access to these vital services and the economic security current aid provides, the replacement bill jeopardizes many women's health and the overall well-being of their families who rely on this assistance.
Let's start with Medicaid funding and tax credits: Within the 123-page replacement bill, which has been dubbed the American Health Care Act, one plan would make the Medicaid expansion a thing of the past come 2020, when the federal government would block-grant money to states on a per capita basis, "effectively cutting the program," as Vanity Fair put it. Additionally, it will replace Obamacare's subsidies with tax credits based on age rather than income. Once this is in effect, between 6 million and 10 million people who are currently enrolled in Medicaid could lose health insurance coverage, according to Vox.
Without the economic security to seek medical care that Medicaid has been able to provide for so many people, low-income women, including future moms, will be essentially forced out of their healthcare plans and may not have the financial ability to purchase a new one through the open market.
This bring us to Planned Parenthood. One of the most concerning provisions in the replacement bill is that the GOP will cut off federal funding to Planned Parenthood because it provides abortion services.
But the GOP seems to be blinded by this one political debate because Planned Parenthood does so much more for women's health than simply provide abortions, which account for only 3 percent of the services out of the 10 million services per year that the organization provides, on average. The other 97 percent of services help women with treatments related to sexually transmitted diseases, birth control services, pregnancy tests, breast exams, pap tests, and prenatal care. Some may argue that low income women can go to a local health clinic instead of Planned Parenthood, but community clinics simply aren't equipped to handle the need for these vital services like Planned Parenthood is, and the workload is going to quickly add up.
Another concerning factor: that maternity care will no longer be required to be covered by health care plans under "Trumpcare," according to The Los Angeles Times. "If a state removes maternity benefits, for example, that's likely to make maternity coverage, among other services, immensely expensive, if available at all," the outlet reported.
Additionally, without the individual mandate to carry health insurance (or else face a hefty fine), more people might wait until they're actually sick to purchase coverage, causing the pool to suffer higher rates. Imagine the devastating dilemma: Some moms might be forced to choose between a highly-priced health care plan or buying the things that her child needs right then, like groceries, diapers, formula, and daycare.
These adverse effects could spiral into a much higher number of uninsured low-income people. This could mean more sicknesses that aren't treated quickly enough, which could lead to even more debt for the individual and the health care providers, not to mention higher rates of mortality.
Low-income moms will undoubtedly get hit hard by the GOP's health plan. The ramifications of all of its provisions won't be noticeable tomorrow, but in a few year's time, the AHCA's many flaws will be very obvious.