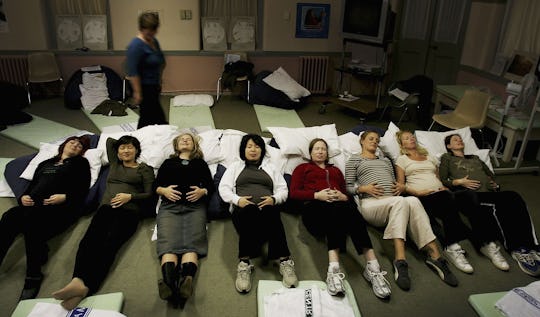 Ian Waldie/Getty Images News/Getty Images
How Trump's Budget Will Affect Pregnant Women
President Donald Trump's "America First: A Budget Blueprint to Make America Great Again" budget plan is raising a ton of eyebrows, and for good reason. It calls for a marked increase in military spending and major cuts in other areas, including the elimination of many federal programs that help the poor, that assist in funding scientific research, and that support international aid. And by taking time out to carefully read over the proposal, it becomes clear that the details prove how Trump's budget will affect pregnant women should it pass.
One of the biggest losers in the budget proposal when it comes to pregnant women? The WIC program. According to the United States Department of Agriculture's Food and Nutrition Service division's website, WIC, also known as the Special Supplemental Nutrition Program for Women, Infants, and Children, "provides Federal grants to States for supplemental foods, health care referrals, and nutrition education for low-income pregnant, breastfeeding, and non-breastfeeding postpartum women, and to infants and children up to age five who are found to be at nutritional risk."
In the budget plan, $6.2 billion would be provided to the WIC program — a $150 million cut from fiscal year 2016. This is especially disappointing, as the program was already cut by $273 million the previous year.
In addition, the National Institutes of Health spending will be cut by $5.8 billion, representing a nearly 20 percent cut. Consulting Medical Director Dr. Anne Davis at Physicians for Reproductive Health made the following statement in regards to that loss of funding:
At a time when the future of health care in our country is at risk, the Trump administration's proposed budget cuts key agencies responsible for improving our nation's health. The National Institutes of Health is the backbone of the best medical research in the United States, and cutting their funding would have disastrous immediate and long-term effects on public health. President Trump's proposed budget would disrupt medical progress that benefits all Americans.
If a doctor at Physicians for Reproductive Health is concerned, it's likely that the organization believes pregnant women will be impacted by the cuts.
Then there's the Home Energy Assistance Program — which comes at a cost of $3.4 billion a year nationwide — that provides help to some elderly and low-income people who have trouble paying for winter heating bills. Unfortunately, it would be cut entirely under the budget plan proposed by Trump, according to Syracuse.com.
How would that affect pregnant women? Well, without that aid, some families might have to cut back on food to offset higher energy costs. According to an analysis by CNN, in Boston, researchers discovered a 30 percent increase in the number of underweight infants and toddlers during winter months as compared to the rest of the year. That's certainly something pregnant women might be concerned about.
So, are there any positives in the budget plan for pregnant women? Tentatively, yes, and it's a big one.
According to Vox, the budget allows for the creation of "a new Federal Emergency Response Fund to rapidly respond to public health outbreaks, such as Zika Virus Disease." It's unclear where the funding for this new program will come from, and the proposal doesn't say whether funds will be taken from other areas to support it.
A way to combat the Zika virus is a win for possibly vulnerable pregnant women who could be exposed. But with cuts to other areas involving public health, questions still remain when it comes to objectives such as fighting Zika or continuing research in other areas that impact pregnant women.
It's likely that there will be a lot of discussion to come about the budget, which would not take effect until the new fiscal year starting on Oct. 1, as reported by The Washington Post. However, Trump has to reach a separate agreement with Congress by the end of April, which is when a temporary funding bill expires. If an agreement can't be reached by that point, there's a chance that there would be a partial government shutdown starting on April 29 — a little over a month away.
If you have concerns about the proposed budget, it's probably a good time to alert your representatives. You can find a way to get in touch with your representatives here, if you don't already have their information saved from previous attempts to contact them.