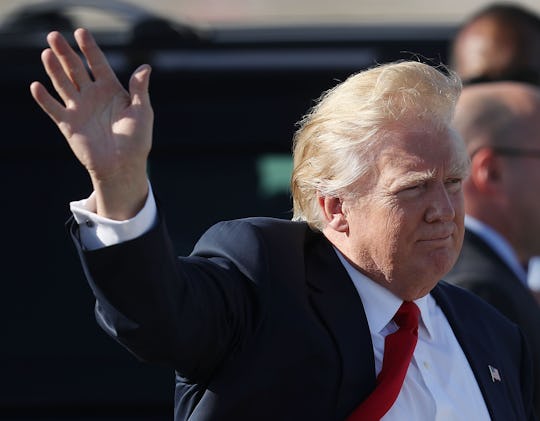 Joe Raedle/Getty Images News/Getty Images
How Trump's Immigration Crackdown Affects Kids
In his four weeks in the White House, President Trump seemed to make cracking down on immigration his first priority. He put in place a temporary ban on travelers from seven Muslim-majority countries (as well as all refugees), signed an order to begin building a border wall between the United States and Mexico, and he increased immigration officers' power to detain immigrants. Already, Trump's immigration crackdown has affected kids and families, with relatives separated by bans and undocumented parents deported from the country.
In the past two weeks, immigration raids have been reported across the country, and undocumented immigrants who were previously safe under President Obama's administration have been arrested. According to The Washington Post, one mother in Phoenix, Guadalupe García de Rayos, had been in the United States since she was 14 years old — and immigration officials let her stay in the country as long as she checked in with officers every six months. When she went for her routine check-in this year, however, she was arrested and deported to Mexico, as protestors (including her two children) demonstrated outside U.S. Immigration and Customs Enforcement offices in Phoenix.
"She has been peacefully living and working in the Valley for more than two decades, and by all accounts was building a life and contributing to our community," Phoenix Mayor Greg Stanton wrote in a statement shared on Twitter. "She has now been torn apart from her family."
So far, 680 immigrants have been arrested in the ongoing raids, according to The Washington Post, and de Rayos' story is unlikely to be unique. One estimate by the Center for Migration Studies of New York places the approximate number of households with a mix of legal and illegal residents at 3.3 million across the entire country. Sulma Arias, the field director for the Center for Community Change, called the recent raids a "horrific overreach that will destroy families and undermine the American Dream for thousands."
Trump's temporary ban on travelers from seven countries also split families apart — and while judges have put that order on hold for now, Trump has promised to replace it with a new executive action that he said will "comprehensively protect our country," according to Vox.
One American father, Horan Zokari, said that Trump's temporary ban had thrown a wrench in his ongoing attempts to bring his wife and 1-year-old daughter to the United States from Yemen. "I wouldn't want anyone to be in my shoes," he told CBC in early February.
Trump's temporary travel and refugee bans may have struck down by a federal appeals court, but the ongoing, negative focus on foreigners has already been felt by children. One school administrator in New York told Vox that crying had become commonplace among immigrant children in school since the bans were first instated.
"Kids were sobbing, especially immigrant children, saying they were going to get sent back to Guinea, Senegal, Yemen," she told Vox. "They were totally distraught. And then one kid would try to explain to another kid about deportation and it would turn into an argument about, 'You're going to get deported.' 'No, you are.'"
Unfortunately, orders and policies that target immigrants are not only affecting older, single individuals with criminal pasts. With looser rules in place, the current crackdown on immigration is affecting entire families every day.